Party hair with coloured ends
#createyourstyle: In its new campaign, Schwarzkopf celebrates individuality and confidence – and encourages you to try new looks. How do you spot the best party styles? They last all night and are a bit extravagant. A look that's practically made for a night on the town: coloured ends. In a tutorial, we show you a hair trend that goes perfectly with colourful hair: a braided half bun
Party time is ... anytime! There's no better way to ring in the weekend than with a night on the town – preferably on the dance floor. Two questions inevitably come up amongst friends: "What are you wearing?" and "What are you doing with your hair?". A trending hairstyle that's so cool, it almost takes the attention off your outfit? Coloured ends, also known as dip dye hair. We tell you which colours are on trend, how to dye colourful ends and which shade goes with which natural colour. The accompanying tutorial also shows you a stylish version of the half bun, which is perfect because it emphasizes coloured hair tips.
Party hair with coloured ends
This style is perfect with coloured tips, because it emphasizes the ends. A normal updo isn't ideal, but a half-up style like the trendy half bun is perfect because only the top layer of hair is pulled back into a bun. This is a perfect everyday look, which is quick and easy to style.
Model Gia shows us how easily she creates a braided half bun in this tutorial:
A few simple styling steps to create a braided half bun:
Part your hair down the middle, then draw additional partings approximately five centimetres on either side and section off the entire strand of hair in between.
Comb this section of hair into your face and braid it.
Pin the braid to the back of your head with bobby pins. Fold back the end of the braid into a tiny bun.
Set with hairspray. Add some structure to the lengths with texturising balm  – and your party look is done.

For anyone who doesn't have coloured ends yet:
Hair trend coloured tips: How to dip dye hair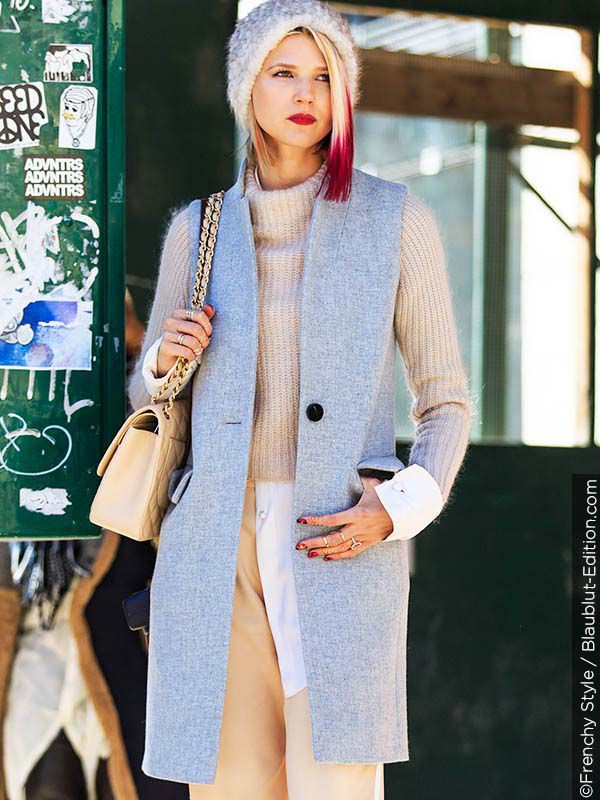 Dyeing coloured ends is not that hard and can easily be done at home. Currently on trend: Pastels like pink, apricot or pale blue. They look great combined with blonde hair. Bright colours are also popular, for example a luminous turquoise, which is a great match for brown or black hair. If your hair is darker than dark blonde, you'll have to lighten your ends. It's the only way to achieve the desired colour result, as shown on the dye pack.
4 steps to coloured hair ends:
Put on an old shirt to protect your clothes. Then blend the colour according to instructions.
Distribute the colour along the tips of each strand of hair, using a brush. You decide how high you want to go. Tip: Let the colours bleed into each other for a soft transition.
Stick to the application time indicated. Rinse thoroughly and use the conditioner included wth the colour. It seals the colour and gives it lasting shine.
After colouring, give your tips some extra care! To avoid hair ends looking brittle, pamper them with split end oil fluid and hair masks. Tip: Rub a generous amount of hair oil into the ends 20 minutes before washing. You can also use the nourishing oil after washing, but in smaller quantities, so it doesn't weigh down your hair or make it look greasy.