© Schwarzkopf
How to use men's styling products
With so many different men's products on the market, you'd be forgiven for not knowing what styling powder does or how to apply wax properly. So we're going to give you a rundown of men's styling products, what they do, and how to use them. We are using Taft products to support our examples.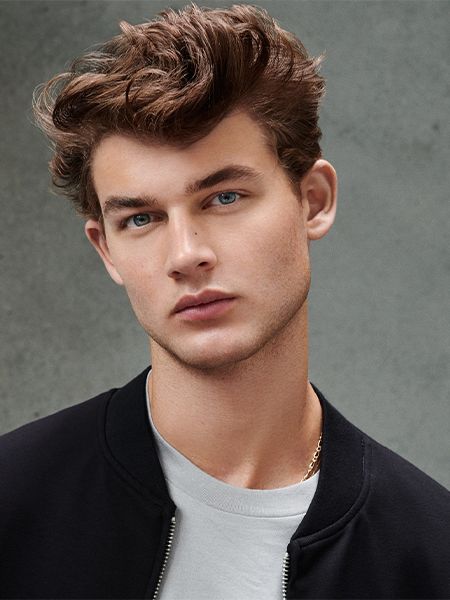 Gel
Hair gel is a styling product designed to create movement while holding hair in place. It's a great way of adding texture, body, and shine. It can also be used to slick hair back, which is a great trick if you've got lots of flyaways that just won't behave. Perfect for keeping that man bun in place!
Styling gels come in different strengths, so you can choose the hold depending on what you want to achieve with your hair. For a tousled look, a medium hold will be more than enough. Taft Titane Power Gel can help you achieve this look. If you prefer a slicked back look, the maximum hold is necessary to ensure the style stays in place.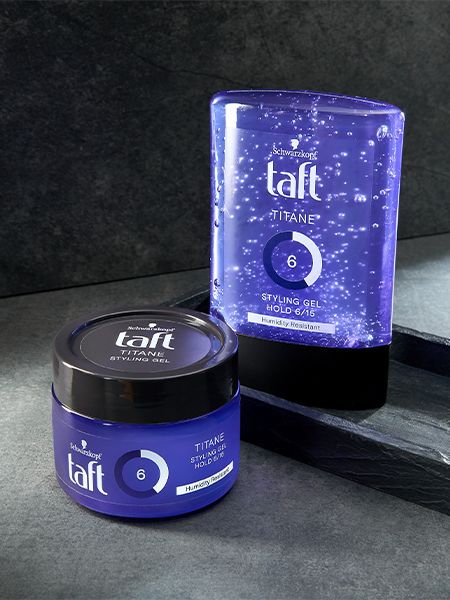 Wax
Wax is designed to sculpt and hold your hair in various styles such as the façon cut. Although it is strong, it does allow flexible movability so you can easily create your desired look. Wax doesn't harden like gel or mousse so if your style isn't to your liking, you can easily restyle it without having to wash the wax out. Taft Specialties Creative Modelling Wax helps to stop your hair from drying out!
Paste
Styling paste is a lightweight and pliable paste that enables you to give your hair more definition, shape, and texture. This product usually has a thick, almost solid consistency so it therefore needs to be warmed up by rubbing it between your palms before it can be applied. With Taft Male Offense Remoldable Cream Paste, you can style and restyle your hair without needing to reapply. Simply change your hairstyle throughout the day if you have the urge.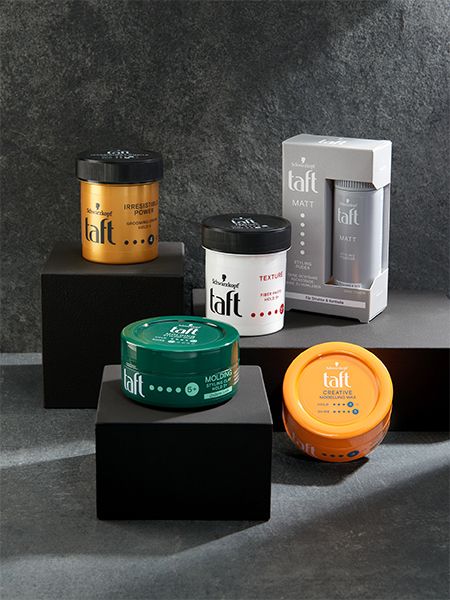 Cream
Hair creams can be used to smooth out curls and reduce stray hairs and frizz without causing your hair to go greasy. They add a subtle, natural-looking shine to your hair without weighing it down. If your curls need a revamp, use the Taft Curl Styling Balm and for a strong hold that performs for days, we recommend Taft Irresistible Power Grooming Cream.
Clay
Hair clay is similar to wax and makes your hair feel more "plumped" up by adding body, thickness, and structure to the individual hair strands. Clay is perfect for creating voluminous hairstyles that will stay put the whole day and not leave your hair looking weighed down. Taft Male Offense Molding Clay is just what you need to achieve a tousled and textured look.
Powder
Hair powders create friction between hair strands, which is how they add volume and texture to your hair. It's no surprise then that they're also known as texturizing and mattifying powders. If you have fine hair, a powder with instant lift and a medium to strong hold can really make a difference. Powders are known to absorb excess oil, which is a welcome feature if you have oily hair.
The benefits of Taft products
Taft's range of styling products consists of everything mentioned above. It's never been easier to find a product to match your exact styling needs. The gels range from hold level 3 such as Taft Wet Gel for a little helping hand, right up to super strong 14 hold with Taft Super Glue, for example. The latter even promises to keep your hairstyle in place for up to 72 hours! Did we mention that the gel formulas are vegan? They're free from animal derived ingredients so you can slick back your hair with peace of mind. Most of the gel ranges come in three different forms – Power Hold, Power Gel, and Looks Power Gel for extra convenience.
When it comes to the Taft Specialties, you can expect a hold level of 2 such as Taft Ultra Wax, all the way to hold level 5 such as Taft Specialties Densifying Paste. Enjoy up to 24 hours' hold with products from the Taft Specialties range.