© Schwarzkopf
Perfect Mousse – Radiant Hair and Better Sustainability
Well-aware of the challenges related to coloration and committed to make women at ease with its innovations, Perfect Mousse thrives to help women craft their beauty with easy-to-use yet high performing colorations.
With Perfect Mousse, women get to experience a color as easy as a shampoo while still experiencing perfect color results & grey coverage.
Indeed, contrary to traditional liquid colorations, Perfect Mousse comes in foam format, which makes it easier to apply as it froths up into a creamy lather and is less likely to drip.
After helping you look and feel beautiful with its range of hair colorations, Schwarzkopf decided to embark on a journey to help make the world more beautiful too. We've been busy making our hair color products and processes more sustainable. Our goal is to be more eco-friendly while still continuing to manufacture the same reputable products you've grown accustomed to.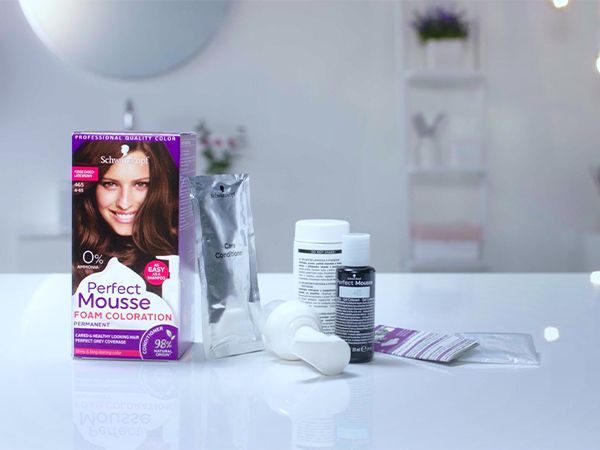 A Beautiful, Nourishing Hair Color That's More Conscientious
Perfect Mousse's easy-to-use foam formula coupled with a caring conditioner whose ingredients are of 98%* natural origin is the perfect combination that leaves your hair looking healthy and well cared-for.  
We have redesigned the white plastic of the foam pump and can reveal it is now made of 99% recycled plastic. And last but not least, the instruction leaflet is now made of recycled paper.  
How to Dispose of the Contents
You've just finished the coloration process and are super happy with the glossy results? Great! But what are you supposed to do with all the contents of the box and the box itself? You could just throw everything in the main trash, but why not help us out with our sustainability endeavor and do your part? Some of the contents can actually be recycled and reused if disposed of correctly. Here's where everything should go:
Paper bin: The instruction leaflet and the folding box can be recycled as paper. Just make sure to flatten the box first.
Residual waste: The color gel tube can be thrown in the trash.
Plastic bin: The foaming pump, conditioner sachet, gloves, cap from the color gel, and the developer bottle can be recycled as plastic.
So now there's even more reason to fall in love with Perfect Mousse's hair color. Every time you grab a box to color your hair, you have peace of mind that the contents and the caring conditioner formula are becoming more and more sustainable. Make sure you dispose of everything correctly when you're done and we can all look forward to a more beautiful world. Together.