© Schwarzkopf
Natural & Easy: Enhanced and Kind for a Natural Looking Result
Natural & Easy coloration is carefully crafted and enhanced to help you achieve an easy, natural look – hence the name. The natural look enables your true beauty to shine through and lets you feel like yourself. The formula provides for a gorgeous-looking shine and includes Mediterranean olive oil and French lavender water as just two of the new additions.  
However, we didn't think it was enough for us to simply deliver natural looking color results, we also want to improve our products in terms of sustainability. This is why we decided to make some changes in our hair coloration ranges to enhance sustainability with our products. Don't worry, you can still enjoy the same great quality, but be assured that sustainability aspects have been improved the next time you treat your hair to that brand new color.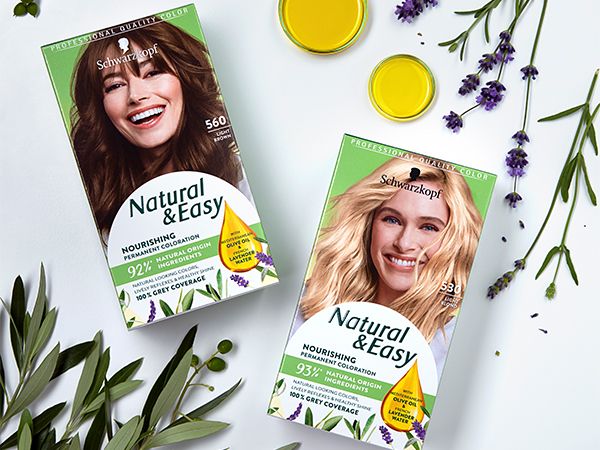 A Natural Looking Color With Improved Sustainability
Natural & Easy got its name from the natural-looking color result that's achieved, and regarding the easy part, that's clear to see in the simple step-by-step instructions below. When it comes to our goals for achieving better sustainability, we can confirm that the box is 100% recyclable and so is the instruction leaflet, which is made from recycled paper. We've been able to manufacture the developer bottles using less plastic than before and made the clear-cut decision to use 100% recycled aluminum for our color cream tubes as well as recycled plastics for the caps. The recycled aluminum helps us decrease our CO² footprint since it requires a lot less energy to produce than primary aluminum.  
But once you've successfully colored your hair, how do you dispose of all the items in the box? Here's a breakdown of where everything goes so you can do your part for sustainability:
Paper bin: The instruction leaflet and the folding box can be recycled as paper. Just make sure to flatten the box first.
Plastic bin: The gloves (washed), developer bottle, and color cream tube can be recycled as plastic.
Residual waste: The foil packaging of the conditioner can be thrown in the trash.
Feel Like Yourself: With the Natural Look Made Easy
So you've chosen your desired product from the Natural & Easy Blondes, Reds, Browns, or Blacks collection and can't wait to try it out? Despite the formula being comprised of up to 93% of naturally-derived ingredients (including water), it is imperative that you do an allergy test 48 hours in advance to make sure your skin doesn't react to the color. It's also very important to read through the instructions and safety information carefully before you begin. Make sure your hair is dry and not freshly washed, lay out everything you need from the box in front of you, and simply follow these steps:
Step 1: The first step is to cover your clothes with an old towel. Then put on the gloves.  
Step 2: Squeeze the tube of color cream into the developer bottle and shake well.
Step 3: Apply the mixture first to your roots and make sure to massage it in so your whole scalp is covered.  
Step 4: When you've finished covering your roots, use the rest of the coloration for the lengths of your hair.
Step 5: Now's the time to relax for 30 minutes while the color works its magic.  
Step 6: Wash out the color and apply the caring conditioner to the whole of your hair and let it soak in for 2 minutes.
Step 7: Rinse out thoroughly and style your hair as normal.
Natural-looking hair that's easy to achieve with Natural & Easy. And for appropriate disposal simply follow our instructions on what goes where for optimal recycling. Together we can achieve a more beautiful world.