© Schwarzkopf
Shiny Locks and a Clear Conscience With Brillance
As a strong woman, you already exude confidence, but Brillance coloration is able to enhance that powerful feeling even more thanks to its radiant rich colors. Your locks play a big role in how you feel about yourself and when they shine, you're able to shine on the inside. You can trust Brillance to give you the confidence to unveil your passions and feel beautiful. The brand not only has a responsibility to make you feel good about yourself, but also to do its part to make the world a better and more beautiful place. Behind the scenes Schwarzkopf's been working hard to make your hair color product more sustainable, which is beneficial for the planet.  
We've recently made a lot of changes to our products and will continue to strive to make our products eco-friendlier. You can keep on expecting the same great quality and resulting gloss and at the same time know that the product you're using are taking steps to becoming more sustainable.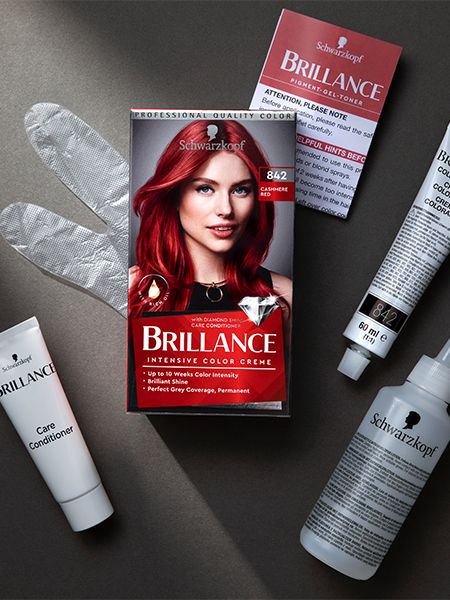 A Vibrant Color That's More Ethical
Brillance's vegan formula means that no animals products are used to result in that shiny mane. The box itself is 100% recyclable and so is the instruction leaflet, which is made from recycled fiber. We've also ensured that less plastic is used in the developer bottles and have switched the material of the color cream tubes and settled on 100% aluminum. By using recycled aluminum, we greatly reduce our CO² footprint per tube. This is because recycled aluminum has a significantly lower energy requirement than primary aluminum. It's worth noting that aluminum tubes are fully recyclable and widely recovered via existing waste management systems.
How to Get an Intense Color With Brillance
Once you've chosen a Brillance product from one of the many collections, simply follow these easy steps and before you know it, you'll have shimmering color that will turn heads. Lay out everything you need from the box in front of you and let's begin:
Step 1: First things first, make sure you've covered your clothes with a towel, then put on the gloves.
Step 2: Add the color cream to the developer and shake well.
Step 3: Apply the whole mixture to your hair, starting at the roots.
Step 4: Once you've covered all your hair, leave the mixture in for 30 minutes.
Note: If you're covering regrowth, first apply two thirds of the mixture to just the roots and wait for 20 minutes. Then apply to the rest of your hair and wait a further 10 minutes.
 
Step 5: After 30 minutes have passed, thoroughly wash the mixture out of your hair and apply the Diamond Shine care conditioner.
Step 6: Wash out the conditioner after a few minutes and simply style your locks as normal.
So now you know it IS possible to have gorgeous hair with a clear conscience. Schwarzkopf ensures that Brillance's trustworthy formula is as great as it has always been, but has tweaked the box and its contents for better sustainability, resulting in a more beautiful world.