© Lev Dolgatsjov / Fotolia
Ski Hairstyles: Style in the Snow
Beauty in the snow season: On a snowboard, sled or skates – we have the hairstyles that stand up to all kinds of winter fun. Head for the slopes! And then the après-ski? You bet! These hairdos are great for a party at the lodge!
Great prospects: Snowy mountains, a great winter outfit and fun in the snow just ahead! Only one challenge remains: styling your hair. Sports activities such as skiing, sledding or figure skating pose a problem for most of our favourite hairdos. While a casual chignon or sweet ponytail looks great with your snow suit, they are rather impractical under a hat, helmet or other headgear. They make unattractive bumps in beanies, feel uncomfortable under the snowboarding helmet and do not last long. Then there is the après-ski disappointment: After a day on the slopes, the hairdo is flattened and anything but ready for a party.
We have the solution: Popular hairdos to meet all alpine requirements, easy to style with a secure hold to guarantee that you look great – into the late après hours.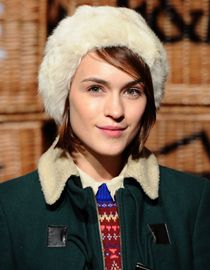 For skiing, stopping by at the lodge or taking a walk through the winter wonderland – a short cut works well all around. We recommend the French bob, a style that works very well with hats. Smooth down the short cut and form a side parting. Style the fringe to the side and secure it with a hair clip to keep strands out of the wind, leaving the ends peeking out under your hat – and your attractive ski shortie is ready!
Hint: Short hair can look flat after taking off your hat. To prevent flyaway hair, just apply a bit of styling powder at the hairline and freshen up the look! We recommend putting a styling product of your choice in a handy travel size into your bag or backpack.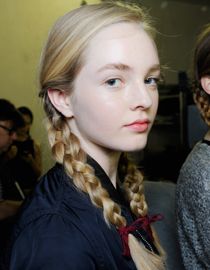 Long hair is best tamed for sporty fun in the snow since an open mane is always in the way, impedes your vision or gets tangled up and knotty. How nice that braids are popular again. Not only are sweet braids trendy and a great change in style with a sporty snow outfit, they are also make an ideal hairdo for the slopes. Hats and helmets fit great without pressure, everything is in its place. The best thing about it: In the evening you simply open up the braids, creating an alluring soft, wavy look.
Hint: The curls will be even more seductive if you make French braids – très chic and oh so trendy!
Low Ponytail for Summiteers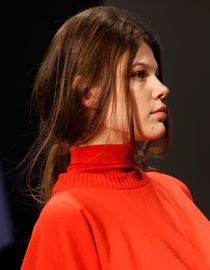 Highly popular! Whether you are advanced or just a beginner – a low ponytail is the favourite hairdo for street stylers AND modern ski bunnies. Absolute trend rule: The ponytail has to sit low at the back of the neck and rather loose, styled in the messy look with a centre parting. Simple, practical and attractive!
Hint: Let a few strands fall out to loosely frame the face. That makes you look cool! If you want to transform your style for après-ski, simply hide the loose ponytail with hair elastic in a turtle neck or conceal it with a scarf to create a sophisticated faux bob hairdo.