© Getty Images
Small Hairstyle Changes which Make a Big Difference
Would you like to change your appearance by changing your hairstyle but a haircut is not in the cards? We suggest small styling modifications, which will result in amazing changes in appearance. Adding a parting or changing the hair structure is easy and can make the desired difference
Like no other fashion statement even minor hairstyle changes can make the difference between looking e. g. like a student and looking like a professional. Do you want to turn over a leaf in your life and express this with a fresh or more elegant style? A hairstyle change will give you immediate results. Switching between open hair without much structure and a playful or sophisticated updo will show different sides of you. Changing from straight to wavy or curly hair or changing your hair colour may also result in excitement and get you the attention of your partner.

Emilia Clarke is always ready to try a new hairstyle (see the photo above). She combines an elegant evening gown with an austere looking updo with middle parting, while her casual sweater goes with an undone updo. In both cases, she wears an updo. However, the small styling differences adapt the updos to different events and fashion styles.
Hairstyle Changes: Open Hair versus Updo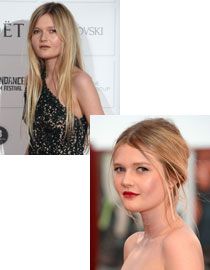 Beautiful long hair cascading over the shoulders is the height of style and beauty? While this might be true, every now and then every woman wants to show the many facets of her personality. Besides, variety is the spice of life. Turning open flowing hair into an updo is one of the standbys as shown above by Sophie Kennedy Clark. She looks very young and casual with her long open hair. Just a few short styling steps later, Sophie Kennedy Clark appears sophisticated and all grown up with her undone updo.
Hairstyle Changes: Straight versus Wavy Hair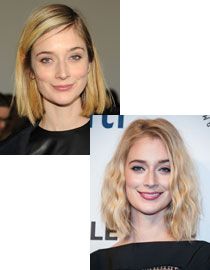 Few people learn early in life to be satisfied with the hair they have. If the hair is straight it needs to be curly and vice versa, and the natural colour just does not seem to be bright, dark or colourful enough. Luckily, modern women are spoiled for choice. With the proper styling tools hair structures, colours, and even the hair length can be changed in less than an afternoon. Actress Caitlin Fitzgerald demonstrates how the switch from straight to wavy hair influences her appearance and the style of her long bob. The straight version is clean, elegant, and sophisticated while the waves create movement, vibrancy and appealing light reflections.
In his video, Schwarzkopf hair expert Armin Morbach demonstrates how to create soft waves in your hair.
Video: How to Create Beach Waves
Hairstyle Change: Relocating the Parting
Parting your hair in various places is an easy way to make subtle changes to your hairstyle. Whether you part your hair in the middle or on one side will change the optical impact of your face. Marion Cotillard looks beautiful no matter where she parts her hair. This gives her the freedom to experiment. Partings influence the way your hair frames your face. Middle partings are particularly suitable for old fashioned, well-organised hairstyles, while side partings can be varied to create styles from sassy to brave or playful.