© Getty Images
Katy Perry's Hair Colour and Hairstyle Choices
Katy Perry's birthday is right around the corner (on the 25th of October). On this occasion, we look back at her most appealing hairstyles. Experimenting with her appearance is part of her metier as singer and actress. Whatever hair colour or style she wears, her looks and smile are always beautiful. We show her wearing a black long bob with fringes and colourful long hair. Katy Perry puts no limitations on her creativity
In 2008, Katy Perry rose to international fame with her single 'I Kissed a Girl'. It was also her final good-bye to her brave image and gospel music. Katy Perry was born in California the daughter of parents who found religion as Pentecostal pastors after a wild youth. The family has Portuguese, German, Irish, and English roots. As far as her looks and hairstyles are concerned, Katy Perry is always good for surprises. Her natural hair is dark blonde. In recent years, she changed it to all shades of colours from blonde, to violet, to black. As consummate performer she knows how to adapt to her roles.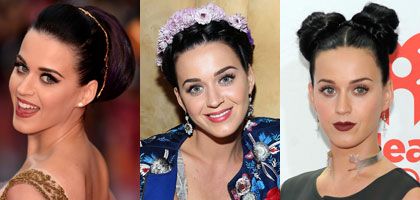 Updos are among Katy Perry's favourite hairdos. This is not surprising because they offer her a wide range of styling options. She loves to play to audiences and reinvents herself for her performances.
Glamorous Katy (on the left): At the European premiere of her documentary 'Part of Me in 3D' in July of 2012, Katy Perry appeared wearing an extra-large chignon. A small golden hair band added elegance while catching the eye.
Romantic Katy (centre photo): At 'The Great Gatsby' after-party in May 2013, she delighted with a braided updo with girlish flower crown.
Katy, Sassy and Wild (on the right): At the iHeartRadio Music Festival in 2013, Katy styled two chignons on top of her head into a 'Mickey Mouse' hairstyle with middle parting.
Katy Perry's Hair Colour Choices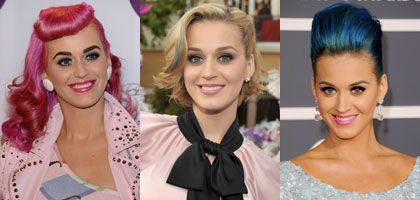 Katy Perry's hair colour changes almost as often as her hairstyle.
Luminescent Pink (left photo): At the MTV Europe Music Awards 2011 playfully coloured her retro hairdo a glaring luminescent, not-to-be-overlooked pink.
Naturally Looking Blonde (centre photo): When Katy Perry launched her fragrance MEOW! in December 2011, she surprised wearing a feminine wavy bob in naturally looking blonde tones.
Iridescent Blue (right photo): At the Grammy Awards 2012, Katy Perry achieved a special effect with the cobalt blue iridescent sheen of her elegant high updo.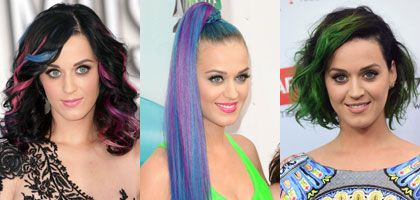 The artistic nature of the playful multi-coloured hair elements surprises and appeals.The complementary colours are carefully chosen as part of the focus hair elements.
Dark Hair plus Two Artistically Used Colours (on the left): The greenish blue and red violet strands of colour are woven into braids, which merge with large bouncy waves. Her hairstyle made a splash at the MTV Video Music Awardsin2012.
Strictly Styled Chignon with Colourful Ponytail (centre photo): The Nickelodeon's Choice Awards celebration 2012 saw Katy Perry wearing long silky hair extension to create the ponytail with dazzling strands of greenish blue and bluish pink hair.
Casual and Playful (right photo): In June 2014, singer and actress Katy Perry experimented with a perky undone bob. A few well-placed turquoise strands of hair provide focus and create the casual playfulness of this wavy hairstyle.