© Getty Images
High Bun: Instructions for the Hip Updo
Top knot how-to: the high hair knot is an absolute hairstyle favourite among women. You haven't quite managed to get the right twist? In our video instructions, we show you how you can style the high bun yourself quickly and easily – in just five steps
You too are aiming high? Start on your head with the updo of the hour. The top knot is the favourite hairstyle of bloggers, stars and every woman! No wonder since the casual hair knot is simple, practical and stylish in one.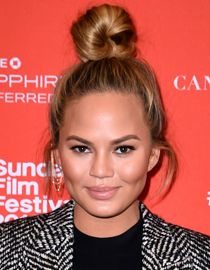 Celebrities discovered the high chignon long ago, wearing it with anything from the casual all-day look to a glamorous gala dress. That works because the hair knot – albeit always with a slightly undone look – appears highly feminine and classy. Few hairdos accomplish the balancing act between cosy stay-at-home hair and elegant event hairstyle as successfully as the popular high bun.
Why the Top Knot is so Popular:
The high bun appears wonderfully uncomplicated, adding that congenial something to any festive occasion. According to the motto: aiming high while keeping your feet on the ground.
The hairstyle is timeless and especially ageless. Young girl or mother, Chrissy Teigen or Julianne Moore, everyone looks great with this chignon.
The high hair knot is extremely versatile and can be styled as desired. Twirled up severely or styled more loosely as a messy bun – the trendy hairdo is a companion for all life situations.
It makes us taller (yes, every inch counts!), lengthens the neck and thus makes us appear even more feminine.
The high chignon goes well with any styling: it makes elegant looks and business outfits appear less severe, casual styles more romantic and feminine.
Curls, waves, straight hair? No matter, you can do the twist with any hair structure.
Take it easy! The top knot is probably the world's most straightforward updo, perfectly knotted in just a few steps.
Hair Styling Instruction: High Bun
You too want to try this fabulous knot? Do the hairstyle-to-have yourself in just five simple steps!
What you need: Dry shampoo, hairbrush, 2 hair elastics, hair clips, hairspray
1. For added grip and extra hold, first work some dry shampoo into your hairline.
2. Comb the hair over your head with a brush into a ponytail and secure it with a hair elastic.
3. Twirl the ponytail until it nestles around the hair elastic like a chignon quasi on its own.
4. Take another hair elastic and wrap it around the knot.
5. Then secure the high bun with hairspray and you are done!