© Getty Images
Hair Padding
Women use hair padding to create hair elements with extra volume and more hold. We show hairstyles, which are more appealing with padding. Learn how to use hair padding to your best advantage
Hair padding helps to shape updos and voluminous hair elements like chignons or quiffs. Adding padding or a hair donut is particularly helpful if your hair is not quite long or full enough for a chignon or updo. Classic updos appear more glamorous with the boost from hair padding.
Many women may consider hair padding outdated. However, the styling tool never completely lost its place in the hair styling arsenal. The models for fashion designer Alena Akhmadullina certainly turn heads wearing padded chignons right on top of their heads. Alena Akhmadullina is the up and coming star in the Russian fashion scene. She likes to play with folkloristic motives and saturated colours. The chignons on top of the head of her models fit her fashion ideas. The padding gives the chignons shape and hold.
Hair padding comes in many sizes, colours, and shapes. This makes it easy to adapt the hair padding to your hair colour and style. Of course, hair padding must be completely covered by your hair or a hair piece. Size and shape depend on the style and length of your hair and the desired effect.
Left: Hair padding provides chignons and updos with an extra boost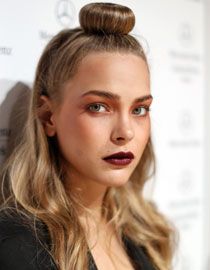 Hair Padding to Give Hair Elements Extra Hold:
Padding is your best bet if your hairstyle requires a boost and even the toughest hairspray would not provide sufficient standing power.
Left: A donut keeps the chignon on top of the model's head in shape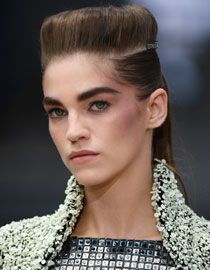 Hair Padding to Achieve the Desired Shape:
Do you remember soft curlers? They used to be the solution for the overnight styling of curls or waves. Soft and pliable foam curlers can also double as oblong hair padding.
Left: The models for the fashion house Chanel used oblong padding to shape their top hair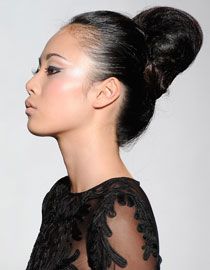 Exceptional Padded Updos:
Hair padding is a necessity if you are partial to high-volume updos. The size of the padding and the length of your hair determine how much volume you can add to your updo.
Left: During the Paris Fashion Week, models for fashion designer Christophe Guillarmé contributed a flair of elegance with their padded, high-volume updos