© Getty Images
Video Blog with Hair Tutorials: 'SchmecktSowiesoNicht'
From time to time, we will feature one of our favourite video bloggers who demonstrate today's hair styling ideas. We start by introducing Susanne and her video blog 'schmecktSowiesoNicht'. In the process, we will also provide helpful hints and video instructions on how to deal with a bad hair day
There is certainly no scarcity in how-to blogs including hair styling, makeup, and fashion blogs. Some of these blogs and vlogs (video blogs) show extra expertise and class. We found many gems among the hair styling video blogs and like to introduce our favourite styling vlogs.
Susanne and Her Video Blog 'schmecktSowiesoNicht'
Susanne spiced up her YouTube videos on hair styling with the right portion of comedy. Without frills and in true minimalist style, Susanne comes right to the point in her hair styling videos. Her descriptions and instructions are easy to understand and therefore also easy to follow.
Aside from great hair styling videos, Susanne also offers a selection of humorous clips, which are inspired by her personal experiences. Would you like to know what kind of hairstyle mothers should wear to earn the immediate ire of their daughters? Susanne shows how to accomplish this in her funny 3:23-minute long video.
Susanne's Vlogger Portrait
We immediately noticed that every one of Susanne's styling steps is executed to perfection. Susanne knows her hair and how to style it: 'As teenager I hated my very thick hair! However, I changed my mind, and I now really love my thick mane'.
Hair fashion like fashion in general changes quickly. Susanne likes to experiment with new styles, especially with hair colours: 'I started colouring my hair when I was a young teenager. Pink was my first colour of choice followed by red, brown, blonde and for a long time also black. Meanwhile, my hair is brown again. It is cinnamon-coloured to be precise'.
With all her eagerness to try new hairstyles, Susanne never tried a short haircut: 'I like short hairstyles. They give character to a woman's style. Still, I never had the courage to cut my hair shorter than chin-long.' Good for us! Her video blog offers many styling treasures for women with medium-length or long hair.
The main character on Susanne's first blog on YouTube was her dog ('ikarusDoodle'): 'After a while, my ideas no longer fit the 'ikarusDoodle' theme and so I created the new video blog 'schmecktSowiesoNicht'.'
Susanne in Her Video Blog: French Braid plus Styling Instructions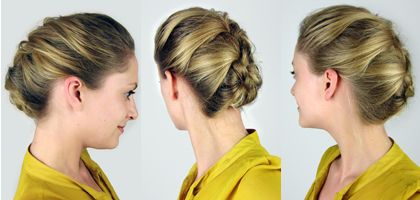 Like women everywhere, vlogger Susanne knows about bad hair days. She offers good and practical styling advice for those days: 'A chignon or braided hairstyle will get you through any bad hair day'. In her down-to-earth style, she delivers a braided hairstyle video in the following blog
Video: Braided Hairstyle by 'schmecktSowiesoNicht'
Susanne's Video Blog: Crown Braid plus Styling Instructions
According to Susanne, her style is on the practical side. Her hairstyles fit right into the 2014 Normcore trend (plain and unpretentious). Her hairstyles always show the extra portion of sophistication and perfection. You can learn how to create this beautiful crown braid with Alice band here:
Video Tutorial: Crown Braid with Alice Band