© Getty Images
Hair Tutorial: Uma Thurman's Updo
Uma Thurman's style and appearance is bound to attract admiration. At the Berlinale, the charismatic actress dazzled with curls and waves, which were loosely styled into a sophisticated ponytail with interwoven braids. Learn how to style this beautiful low ponytail, which will give you a soft yet elegant appearance
Uma was named after the beautiful Hindu goddess Uma, consort of the God Shiva, Lady of the Mountains, the Golden One, who shows how to balance the many aspects of being. This is certainly a tall order even for a goddess. Here on earth, Uma Thurman certainly personifies grace and balance as immortalised in the many stories about her divine namesake. Uma Thurman inspired Quentin Tarantino to create the big screen movies 'Pulp Fiction', 'Kill Bill', and 'Kill Bill II'. Aside from starring in memorable movies, she never fails to show her natural sense of style and charm on the red carpet.
In Lars von Trier's 'Nymphomaniac', Uma Thurman once again shows her talent as an actress. She attended the opening of this movie at the Berlinale with the here featured sophisticated low ponytail.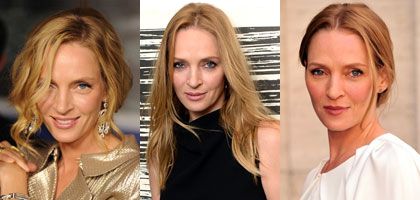 'Mottled blonde hair, kind of blue-eyed, thin in some places and plump in others, like an average woman', this is how Uma Thurman once described herself. True to her namesake, she embraces balance. Rarely if ever will you see Uma Thurman wearing extreme or austere styles, which would distance her from her audience. She has found her natural unconventional style. Her hairstyle at the Berlinale shows her penchant for unpretentious styles.
Tools for Styling Uma Thurman's Low Ponytail
Volume, bounce, and charming nonchalance define this hairstyle.
You need styling mousse for ample volume, a curling iron to create wild curls and waves, heat protectant to keep your hair well-protected, and hairspray for perfect hold. A hair band creates a beautiful accent.

Hair Tutorial: Uma Thurman's Casual Low Ponytail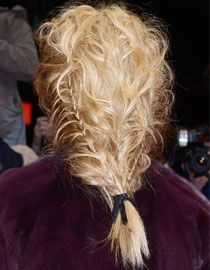 1. Apply styling mousse to give your hair volume and optimal manageability. This makes it easier to create curls.
2. Divide your hair into several large strands. Then create curls in every one of these individual strands. Apply heat protectant to the portion of hair, which you are about to curl. Then wrap small strands of hair around the rod of a curling iron and wait for a moment to allow the curl to form. Release the strand from the curling iron and allow it to cool. Continue curling every strand of your hair in this way.
3. Once you have curled all your hair, use your fingers to shape the small waves and curls. Use hairspray to stabilise the curls. The hair must have bounce from the roots upward. You may want to use volumising powder to create the required volume.
4. For the braided hair element separate a strand of side hair at the temple level. Then use this strand to create a loose French braid.
6. Create a French braid in the same style on the opposite side of your head.
7. Finally, loosely gather the two braids and the rest of the hair in the back of your head below the neckline. Apply hairspray for lasting hold.
In his video, hair expert Armin Morbach shows how to create marvellous curls using a curling iron.
Video: Turning Straight Hair into Marvellous Curls Using a Curling Iron