© Stocksy
Just Like the Real Thing: How to Style a Faux Bob
From long to short, without the scissors: Create a whole new style in an instant with the faux bob. Follow our step-by-step guide to getting the look

A faux bob can give you a completely new look, without the commitment. It's an ideal hairstyle for those with at least shoulder-length hair, who want to try out a trend look – without losing any inches. You can style it any way that suits you – with a center part, side part or without a part at all; with curls, with waves; with big volume at the roots – or simply let it sit naturally.

Faux bob: Which version suits you?
Women with a long face or high forehead should wear long, angular bangs with their faux bob. Got fine hair? Wear yours with big volume. An asymmetrical, longer-in-the-front version with long, face-framing bangs will elongate and slim your face.

Step-by-step: Create a faux bob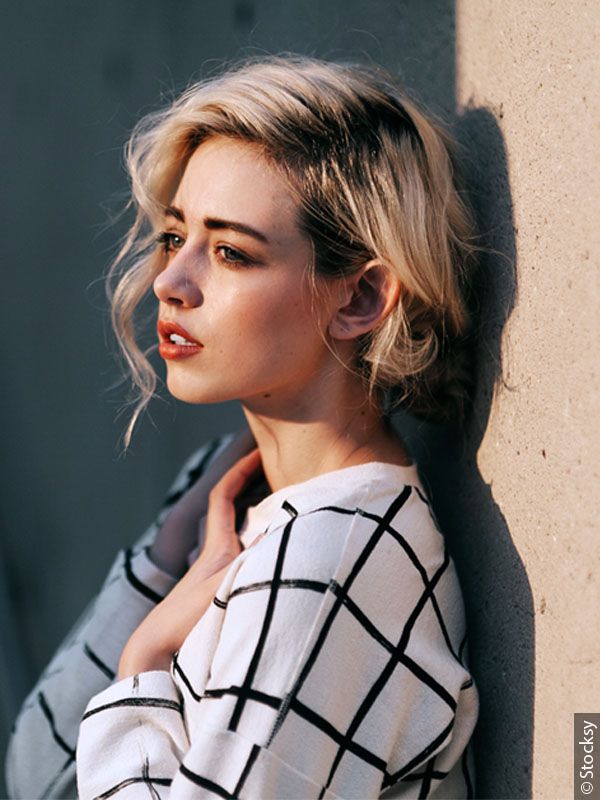 If you have straight hair and would like to create curls, first add some heat protection to towel-dried hair, then wrap it section by section around a curling iron.
Tip: Use a thin curling iron to create tighter curls, a thick one for big waves – or create a wild mixture of both.
Once you've styled your waves, you're ready to create your faux bob. Spritz with a little hair spray before you begin, to make hair easier to work with.

Create a low side part.

Work a generous amount of volume powder into the hair for more structure and grip.

Divide the hair on the left side up to about ear level and temporarily pin it aside – this section will later hang loosely.

Gather an equal section on the right side and take it back behind your shoulder, rolling the hair close to the head onto itself into a kind of French roll.

Secure this roll with hairpins.

Gather the rest of your hair (including the end of the French roll section) loosely into a ponytail at your neck.

Tuck this under, securing it with hairpins. This is allowed to look a little undone.

Twist up any protruding strands and tuck them under, securing with hairpins.

Release the section of hair from step 3, tuck it under and secure it with hairpins.

Fix your style with a strong-hold hairspray. Done!
For a smooth, big volume version, work some volumizing mousse into your hair before blow drying. Tease the roots section by section using a teasing comb, then use your fingers or the comb to smooth the hair into shape.
Tip: For even more volume, add some volume powder into the hair where needed and massage it in.