© Getty Images
Hair Tutorial: Nicole Richie's High Chignon
This weekend, Nicole Richie (29) made her grand appearance at Givenchy's. She presented herself in the first row wearing a tight leather dress and perfect make-up. The high chignon gave her appearance a wonderfully classical note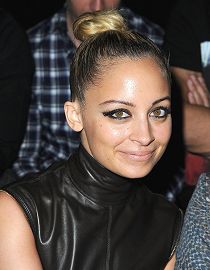 No, Nicole Richie's life has not always been a bed of roses. She has had troubles of her own and with her girlfriend Paris. She is the daughter of an addict and band colleague of superstar Lionel Richie who took her in when she was three years old and later adopted her. This started her on a quite unusual path. Even early on in her life, she appeared to walk the line between different worlds. Life brought her many ups and downs and whatever else happened to her, it put her in the middle of all out parties. Her life is a little less exciting right now and she has two children of her own. Nicole Richie is married now, has world-wide success as a model and convinces buyers with her jewellery and fashion collections for her label 'House of Harlow'. Her second novel titled 'Priceless' was released in the fall of last year. While she is not likely to win the Pulitzer Prize for her novel, she brilliantly succeeds at entertaining her fans with stories about her turbulent life.
Nicole Richie's Hair Style
Nicole has rather fine, naturally brown hair. Amazing how her high chignon brings out all her best hair attributes. The blonde colour is growing out and looks charming in her chignon, while the tightly pulled back hair draws all the attention to her fawn-brown eyes and the shape of her head. Nicole looks sexy and classical at the same time with her hair style and her tight collared leather dress.
Here is how you can style your hair like Nicole Richie:
Tightly comb back your hair and gather it high on top of your head using a scrunchy.
Hold the high ponytail and turn it around itself until it curls into a chignon. Now secure the chignon with hair slides on all sides.

Apply a trace of hair spray for some glossy shine.