© Getty Images
Step by Step to Karolina Kurkova's Glamourous Waves
It was great theatre! At the film festival in Cannes, Karolina Kurkova was the image of royalty. With her style and glamour waves she paid homage to one of the all-time Hollywood greats who would have celebrated her 85th birthday these days had she lived until now. Learn from our hair tutorial how to style them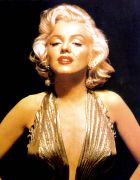 The splendid opening gala at the film festival in Cannes was the perfect 24-karat frame for Karolina Kurkova and the presentation of her glamour waves. The super model showcased her look at the premiere of Woody Allen's new movie 'Midnight in Paris', seemingly in deference to Hollywood's golden era. Does the hair style remind you of anybody in particular? Right, movie star Marilyn Monroe held her admirers captive with a similar style. Marilyn Monroe would have been 85 years old on the 1st of June.

Karolina Kurkova interprets the famous hair style in her own way. Her shoulder-length hair is dyed a brilliant light blonde with fashionable pastel streaks. In order to create the style her hair is rolled around curlers of different sizes. This gives structure to her curls. The unevenly drawn side parting adds the modern twist to her hair style.

You need:
curling foam, rollers in various sizes, hair spray, gloss and a hair dryer with diffuser attachment
How to Create the Style:
Towel your hair dry after shampooing and work some curling foam through it. Then blow-dry your hair until it is almost dry
Strand by strand, coat your hair with hair spray and roll it on curlers
Hold the blow-dryer at a 90 degree angle to apply heat to the rolled up hair for a few seconds. Then allow your hair to cool completely
Take out the curlers and create an uneven side parting. Now carefully pull the curls into place. Pull the hair behind the ear on one side
Apply some hair gloss and the retro hairstyle is done!