© Getty Images
Tutorial: The Inspiring Hairstyle of Rosamund Pike
No sooner had she graduated from Oxford's prestigious Wadham College than Rosamund Pike engaged in a successful career as actress. More than a decade later, her claim to fame includes many coveted roles in big screen movies and an Academy Award nomination in the 'best actress in a major role' category. At the Oscar Awards ceremony she impressed with a breath-taking red gown and an undercut chignon!
As student young Rosamund impressed with her Youth Theatre performance in 'Romeo and Juliet'. She was signed by an agent and performed in British TV series (e. g. Wives and Daughters, 1999). After graduating with an upper second class honours degree in English Literature, Rosamund Pike was offered the role of Miranda Frost starring side by side with Pierce Brosnan and Halle Berry in a Bond movie. Obviously, this offer trumped the alternative of working in a book store. Today, Rosamund Pike is thought after for performances in big and small productions in London and Hollywood. She built her reputation as accomplished actress mostly in independent movies.
Rosamund Pike's talent and style are admired in the movie industry. Her credits include performances in movies and on stage in roles ranging from icy beauty to thoughtful or humorous artistic characters. She performed side by side with Antony Hopkins, Ryan Gosling, Dustin Hoffmann, und Ben Affleck. For her performance as Amy in David Fincher's crime drama Gone Girl (2014) she was nominated for Oscar, Golden Globe, and Screen Actors Guild Awards.
Rosamund Pike Wearing Different Bob Styles
Rosamund Pike's versatility also extends to the way she styles her hair. Her bobs are styled either sleek, with soft waves or undone. At the 2015 Academy Awards she appeared with her hair styled into an undercut chignon!  
Required styling tools:
A thin scrunchy, bobby pins, and hair wax
Styling Instructions for Rosamund Pike's Chignon with Undercut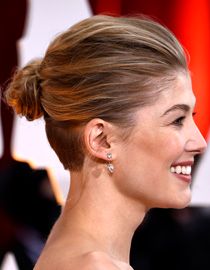 1. If you do not wear a bob and did not undercut your hair you may want to make an appointment with your hairdresser. Ask your hairdresser to undercut your hair to ear level and cut the rest of the hair to chin-level.
2. Comb your hair back without parting.
3. Gather your hair into a ponytail providing it is long enough. Then twist the ponytail into a chignon and secure it using bobby pins.
If your hair is not long enough for a ponytail take your hair back to a point above the undercut. Now turn the gathered hair under and secure the hair ends using a thin scrunchy.
Should your hair be too short for a chignon, simply gather it into a short ponytail.
4. Finally, put some hair wax on your fingers before running them through your hair to create a more casual style.
5. Work hair wax through the razor-cut hair for more lustre and a smooth appearance.

Tip: Light streaks add interest to the undercut chignon while the darker hair in the neck region provides contrast.