© Getty Images
Step by Step to January Jones' Quiff
January Jones plays Betty Draper in the successful retro series 'Mad Men'. The beautiful blonde actress and model is also well-known for her exceptional hairstyles. At the 2013 SAG Awards, January Jones appeared wearing a large quiff combined with an interesting hair element close to her neck hairline. In our step-by-step tutorial, we show you in our tutorial how to create this unique hairstyle
Fans of the TV series 'Mad Men' know January Jones from playing the Betty Draper character. In this series, she embodies the divorcee who can't shake the emotional attachment to her first husband while trying to make her second marriage work. Viewers sympathise with her as a strict, frustrated mother who can't seem to stop fighting with her daughter. In a complete turn-about, she then finds the right words as her daughter's only confidant. In the fifth season, she relates to people as the former model who struggles with the pounds, which separate her from her glory days as a model.

We went on a search for the woman behind the actress who plays Betty Draper. January Jones – so named after her birth month – admits to being at a loss about the motivations of the Betty Draper character in the TV series at times. The accomplished actress and former model is the mother of infant son Xander. January Jones discovered her acting talents while she appeared in TV ads. After playing small roles in well-known movies like 'Bandits' with Bruce Willis, 'Anger Management' with Jack Nicholson, and 'American Pie', she got her big break with the role of Betty Draper in the TV series 'Mad Men'. For her performances she received two Golden Globe Awards and was nominated for the Emmy Best Actress Award.

January Jones: Bob, Quiff, and More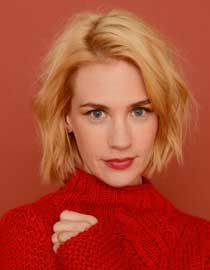 In her role as Betty Draper, January Jones' wavy blonde hair is always perfectly styled, and she reminds us of Hollywood beauty Grace Kelly. As a private person, the blonde, blue-eyed beauty likes to experiment with different hairstyles. She wears a wavy bob, changes to a semi-updo with the hair over her forehead pinned back, tries a head of well-defined curls, just to surprise with sleek hair twisted into a chignon. Every now and then, January Jones also likes to try different hair colours. In 2012, she added subtle pink streaks to her blonde hair and for a while, she dyed her hair red.

For her appearance at the 2013 SAG Awards, January Jones styled her bob with quiff, and she pinned back her side hair. We provide step-by-step instructions to help you create this hairstyle.
Tools for styling the January Jones bob with quiff:
Volumising mousse, round brush, styling comb, mousse, hair gel, bobby pins, and hairspray
Hair Tutorial: How to Style January Jones' Quiff
1. Distribute volumising mousse through your hair above the forehead and blow-dry this hair toward the back over a round brush.

2. Strand by strand, tease the hair above your forehead using a styling comb. Then carefully smooth this hair toward the back.

3. In the low back of your head, blow-dry the hair ends outward. If required you may moisten this part of your hair before styling it or apply some styling mousse.

4. Distribute some hair gel between the palms of your hands and stroke your side hair toward the back. Tuck the ends of your side hair under and secure the ends in the middle above your neck hairline using bobby pins.

5. Apply hairspray for overall hold.

In his video tutorial, Schwarzkopf hair expert Armin Morbach shows how to style another hairdo with quiff.

Video: How to Create a Rockabilly Hairstyle