© Getty Images
How to Style Katie Holmes' Long Curls
Katie Holmes' hair style fits today's life style perfectly. Your hair is not going to be a problem if you are on your way to a party right after office hours. The long curls with the not quite straight middle parting look both classy and cool. We are going to show below how you can style your own long curls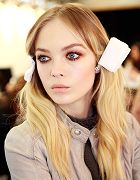 Long curls are sexy! They are therefore far from disappearing from the scene. Long curls with middle parting are reminiscent of the 1960s and 1970s, and they are still popular. Luigi Mureno, hair stylist for Chloé, shows particularly relaxed looking long curls for the fall/winter season 2011/2012. His models use a blow-dryer to style their long curls outward. In August, we saw Katie Holmes wearing a particularly appealing version of this hair style. We discovered Katie and her generous long waves at the MTV Video Music Awards. Her hair shimmered softly as it fell over her shoulders in long waves, giving Katie an elegant and very feminine appeal.
Who Can Wear Long Curls?
Almost any type of hair supports the style Katie Holmes wears right now. Of course, your hair needs to be long enough to fall far beyond your shoulders. Thick hair needs a stepped cut for this style. Volumising mousse or hair extensions help with fine or thin hair.

The natural shimmer of her healthy hair makes Katie Holmes look all the more attractive with her long curls. You can achieve the same effect by using regular hair treatments. Dry hair needs special attention if you like to wear long curls. Hair treatments containing precious oils keep the hair smooth and shiny but don't weigh it down. Use a heat protectant for any hair structure to prevent brittle and dull-looking ends.

Stock up for long Katie Holmes curls:
Heat protectant, paddle brush (a large round brush also works), wide curling iron (minimum width: 3 cm or 1.2'') styling crème, high-gloss hair spray

How to Style Long Curls
Work heat protectant through your towel-dry hair and blow-dry it until it is only slightly damp. Part your hair in the middle and use your paddle brush while blow-drying your hair completely

Roll your hair on a curling iron starting at the hair ends. Allow the curls to set for a short while before taking out the curling iron. Make sure to always roll your hair outward and away from your face. This gives long curls more volume

Allow the curls to cool completely. Then use a small amount of styling crème while shaping individual strands of hair with your fingers
Add a glossy shine using some hair spray for a gorgeous finish
Tip: How to Add Bounce to Long Curls
While the curling iron does its job, professionals don't clamp the hair tight over the curling iron but rather hold the hair with their fingers. This technique allows it to carefully pull the curling iron out of the still rolled up curl. You can then use a clip to preserve the curl for a while. It may take you a while to master this technique but it is well worth the effort. You can take out the clip once the hair is completely cool. Your curls are now ready for styling.