© Getty Images
Hair Tutorial: Jessica Biel's Casual Waves
Actress Jessica Biel's style is as elegant and feminine as it is natural and simple. At gala events, her appearance is always right on target. Her feminine hairstyle with the casual waves attracted our attention
Early in her career, the combination of looks, talent, and a sense of style brought Jessica Biel plenty of accolades. At age 14 and long before she made the headlines as the spouse of heartthrob Justin Timberlake, Jessica earned first credits as a young actress in the role of pious Mary Camden in the series '7th Heaven'. She may have grown as tired of her straight-laced image as the series audience. At age 17th she stepped out posing for the kind of magazine photos, which tend to disqualify young talents from playing Goody Two-Shoes characters forever. The producers promptly had her written out of 7th Heaven. After a time away from the lime lights, she was allowed to return to the series but stepping out did not help Jessica Biel's image and early career. Undaunted by this experience, Jessica Biel returned to the big screen with considerable success.

Jessica Biel certainly learnt how to present herself and shows this on the red carpet. Her casual wavy hairstyle is trendy and fits her to a tee. We show you how to create your version of this casual wavy hairstyle.
Jessica Biel: Step-by-step Instructions for Casual Waves
Step 1
Shampoo your hair and briefly blow-dry it while hanging your head upside down. This provides as much volume as possible. The hair should remain damp.
Step 2
Rub a small amount of sea salt spray onto the palms of your hands before touching the ends of your still damp hair with your palms. Do not apply sea salt spray to your hair close to the roots because this would weigh down your hair and reduce its volume.
Step 3
Separate your hair into several strands and loosely roll up these strands. Secure the rolled up hair using bobby pins.
Step 4
Allow the hair to dry completely. (You may use your hair dryer to speed up the process.) Take the bobby pins out of your hair and gingerly unroll the strands of hair. Use a curling iron for the final touches.
Step 5
Apply some hair spray to give the waves the required hold.
Three of Jessica Biel's Styles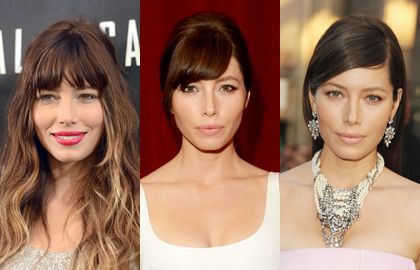 Jessica Biel once pointed out, "When I am on the red carpet I play a role. As soon as I am at home, I tousle my hair and change into a casual outfit." This time on the red carpet, Jessica's role-playing for the gala event included tousling her hair in her favourite homebody fashion.
Jessica Biel favours hairstyles with fringes, which flatter her beautiful face. With her fringes brushed sideways across her forehead she looks particularly feminine. The sleeked back hair lends her appearance a touch of classic elegance. The interesting statement jewellery playfully contrasts with her almost austere sleek hairstyle. This contrast and the artful makeup keep the eyes on the various aspects of her appearance.