© Getty Images
Hair Tutorial: Jennifer Morrison's Crown Braid
We are impressed with actress Jennifer Morrison's talent and style ever since she starred in the role of Dr Allison Cameron in 'House'. We certainly like her artful, herringbone-style crown braid. As complicated as the braid may look, we show you how to create this type of crown braid with ease

At a very early age, Jennifer Morrison learned how to pose in front of cameras for ads and TV spots. In her early career, she posed for the cover photo of Sports Illustrated for Kids with basketball legend Michael Jordan. This launched her successful career, which landed her a role in the TV series 'House'. Currently, she continues her career as Emma Swan in the TV fantasy 'Once Upon a Time'. Jennifer Morrison also made an impression as Zoey Pierson in the sixth season of 'How I Met Your Mother'. Aside from her work as model and actress, Jennifer Morrison also graduated in English and the theatre sciences. Of course, right now she is focussed on her work as an actress for the big screen. Her versatility, experience, and talent are a terrific basis for her future career.

Jennifer Morrison and Her Courage to Try Something New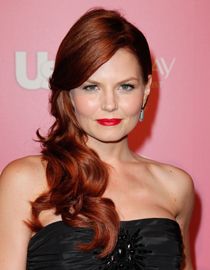 For her role in the new movie 'Some Girls', Jennifer Morrison had to change her blonde hair to a warm red hue. This was no problem for actress Jennifer Morrison. She loves to change her looks. So far, she has tried many hair colours between blonde and black. However, she always falls back on wearing her hair blonde after all scenes are edited and in the bag.
On the left: Jennifer Morrison likes to surprise with new looks. Here, she coloured her hair in a rich red shade.
Tools to Create Jennifer Morrison's Herringbone-Style Crown Braid
Of course, it helps to have long hair for this crown braid. You also need heat protectant, a flat iron, styling mousse, a scrunchy, hair slides, hairspray, and hair pins.

How to Create the Jennifer Morrison-Style Crown Braid
The braiding looks more complicated than it really is. Once you get into the rhythm of braiding your hair herringbone-style, everything else will be easy.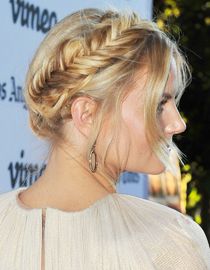 1. The styling works best with completely straight hair. If your hair is curly apply heat protectant before you straighten it using a flat iron.

2. Apply a tennis ball-sized dollop of styling mousse to your entire hair for improved hold and manageability.

3. Comb your hair to one side and sweep it forward over your shoulder. Now divide your hair into two equal strands and hold one strand in each of your hands.  

4. Take a small outer portion of the left hair strand and add it to the inner side of the right hair strand.  

5. Use your index finger to separate the new right and left hair strands. Now take a small portion of the outer right strand and add this small sub-strand to the inner side of the left hair strand. Tighten the emerging braid.

6. Keep repeating the braiding process as described in steps 4 and 5 until you arrive at the ends of your two hair strands. Use a scrunchy to secure the ends of the herringbone braid.

7. You may like to loosen the braid a bit by pulling some of the loops toward the outside. This will widen the braid.

8. Finally, arrange the braid around your head like a crown. Use ample hairspray to secure the crown braid.