© Getty Images
Creating the Wavy Hairstyle of Hilary Duff
Naturally styled long beach waves with middle parting are a favourite hairstyle of actress and singer Hilary Duff. She prefers naturally styled hairdos even for glamorous occasions such as the Golden Globe Awards. We provide instructions on how to create the natural hairstyle Hilary Duff wore at the award party
Hilary Duff is young, beautiful and successful. As for many good-looking US singing and acting talents, her career started with TV advertising spots in her childhood, a starring teen role in the Disney Channel series 'Lizzie McGuire', and starring roles in movies such as 'A Cinderella Story''. She also acted side-by-side with well-known actors like John Cusack. Hilary Duff made her singing debut in 2003 with the studio album 'Metamorphosis' followed by top-ranking hits like e. g. 'Reach Out'. Hilary then added a modelling contract with IMG Models in New York to her resume. With enterprising spirit she started her own company featuring 'Stuff by Hilary Duff'. According to Forbes Magazine, Hilary is one of the top earning stars for years running. In 1987, the born Texan was the steady girl friend of 'Backstreet' actor Aaron Carter. In 2010, Hilary Duff married Canadian ex ice hockey player Mike Comrie; she gave birth to their son Luca in March 2012. The young couple separated in 2014.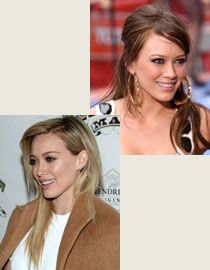 Hilary Duff's beauty is magnified by her positive attitude, vibrancy, and charisma. For a long time, her hair was brown. Now, she prefers to wear layered blonde hair either in straight or wavy styles. Most of the time, she allows her hair to flow freely over her shoulders. That includes her hairstyles for festive occasions and even glamorous Hollywood events. At the 2015 Golden Globes Award party she appeared wearing an evening gown by Rani Zakhem Couture but her hair was still styled into long free-flowing beach waves. Gradated lighter streaks created colour accents and gave her layered blonde hair a natural appeal. Follow our styling instructions to create the same beautiful beach waves.
Required tools to create beach waves as worn by Hilary Duff:
Salt spray, heat protectant spray, a flat iron, and matte paste if desired
Step-by-step instructions for creating the beach waves preferred by Hilary Duff
1. Shampoo your hair before applying salt spray throughout your hair. Then create a middle parting and blow-dry your hair completely.
2. Apply heat protectant spray to you entire hair before you start creating large waves using a flat iron. The waves are formed as follows:
At chin level, put a wide strand of hair between the plates of a flat iron. Turn the flat iron up and outward by about a quarter turn. Hold the warm flat iron in this position for a moment before pulling it down a short distance while turning the hair in the flat iron inward. Again, hold the flat iron in this position for a moment before pulling the flat iron down and outward again. The distance between opposite turns should be about an inch or two.
Repeat this process around your entire head always starting at the same (ear) level. This will create large waves. The bend between waves will have a slight edge to it.
3. Use your fingers to shape the beach waves and apply another dose of salt spray for a matte finish. If desired, accentuate the ends of a few hair strands using matte paste.