© Getty Images
Beautiful Hairstyles for Pregnant Women
In pregnancy, feeling good about yourself and comfortable is even more important than at any other time. Looking attractive is an essential part and during the months of expecting your baby you may want to start preparing for the busy first time. We suggest beautiful hairstyles, which look great without a lot of effort
We have good news and we have great news! Let's start with the great news. Due to the steady increase of oestrogen levels during pregnancy, the hair volume of many women increases by about 10 %. The higher oestrogen levels prolong the life span and resting (telogenic) phase of every hair. This leads to fuller hair and many women have the full, shiny hair of their dreams.
The good news is that the levels of oestrogen and other hormones return to normal after the baby is born (oestrogen levels peak in the third trimester). This is good news for weight loss efforts but the hair volume will return to the pre-pregnancy level. The fuller hair is a bonus for dealing with all the changes during pregnancy. Enjoy it while it lasts!
We show terrific modern hairstyles, which are easy to style and maintain. Did we mention how pretty these hairstyles are even after gaining a few pounds?
Hairstyles for Pregnant Women: Casual Beach Waves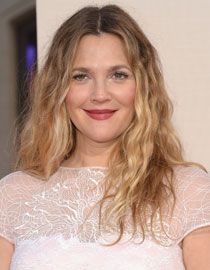 The soft beach waves of Drew Barrymore capture a lot of attention. She seems to enjoy the upbeat mood, which often accompanies pregnancy.
This 'pregnancy glow' relates to the increasing levels of progesterone along with other hormonal changes.
Drew Barrymore's beautiful blonde hair and casual beach waves fit this mood perfectly.
Styling Instructions:
In his video tutorial, Armin Morbach shows how to style beach waves.
Video: How to Create Beach Waves
Hairstyles for Pregnant Women: Modern Updos
The classic chignon on the upper back of the head is easy to style.
It is also a practical and elegant styling solution during the months of expecting a baby. As additional bonus, updos tend to make the face appear slimmer.
Styling Instructions:
Work a hazelnut-sized dollop of styling mousse through your hair. Then tease your hair before gathering it into a high ponytail in the back and close to the crown of your head.
Twist the ponytail around its axis until it naturally curls into a chignon. Use bobby pins to secure the chignon.
Hairstyles for Pregnant Women: Short Hairstyles
In the course of their pregnancies, many women switch from long to short hair.
This has predominantly two reasons. Styling and taking care of short hair is faster and easier than taking care of long hair. Short hair dries faster and has little tendency to develop split ends. The other reason is personal. For first-time mothers, the change to a 'sensible' but still fashionable hairstyle is the outward sign of entering a new phase in life.
Styling Instructions:
Use hair wax to style individual strands of top hair upwards for an upbeat and sassy appearance.