© Getty Images
Hairstyles with Hair Clips
They keep the fringe under control, tame loose strands of hair, help with updos and serve as pretty eye-catchers in our hair: bobby pins and similar hair accessories are more than just handy styling helpers. From a perfectly tamed mane to glamorous water waves – we reveal the tricks for creative hairdos with hair clips
No more hide-and-seek! Clips can be worn quite openly in your hair. They are made for invisibly creating great hairstyles. The little styling helpers work in the background to hold fake bobs, updos or chignons in place, usually placed so they are hidden. Since hair clips are also helpful for quick styling on bad hair days, every woman with longer hair (more than three centimetres) really should have some bobby pins in her bathroom or even better in her purse.
Hairstyles with Hair Clips: Styling Tips
When your hair does not really want to cooperate, simply pull out a few hair clips and use them to pin your hair up or to the side (keyword: side-swept hair). The great thing about hair clips is that they are really helpful and also visually discreet. Especially when they match the hair colour, bobby pins disappear in the hairdo and are quasi invisible. This also makes them the first choice for clear, no-frills looks like a ponytail styled severely to the back.
Bobby pins even compete with curling tools! That is because they not only tame the hair but also shape it. For instance, clips are the number one choice for defined water waves. Bobby pins are used here for styling right from the outset. After washing your hair, simply knead a large portion of mousse into your hair and style it in the sleek look. Then apply some styling gel to your hair and form a wave about 5 cm from the parting (or lower, see Emily Blunt). Put in a hair clip at the indentation so the strand is secured until it dries and keeps the wave shape on its own. Finally take the hair clips out again. For an added touch, simply leave one or two clips in the hairdo as styling accents.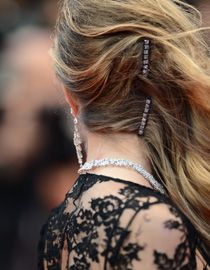 The handy clips can also be used as pretty accessories. DIY: create individual hair accessories by attaching things like artificial flowers from the craft store to bobby pins (easy with a hot glue gun). Aside from blossoms, rhinestones or small pearls make good decorations. This lets you secure an updo while simultaneously adding hair highlights. Naturally the decorative clips are also available ready-made with many different motifs. 
The Three Best Bobby Pin Hacks:
Trick 17: for better hold, apply hairspray to the hair clips before putting them in. It makes them more resistant to slipping.
Correct insertion: the wavy side always has to face down towards the head when sliding it into the hairdo, while the smooth side of the clip faces out.
Ponytail booster: slide two or three bobby pins into the hair elastic holding the bobby pin, vertically at the back of the head. This makes for better hold and visually adds a lot of extra volume to the ponytail.
Small clip, great effect! A great hairstyle does not take all that much. The ingredients: a bobby pin and our step-by-step instructions.
Video: Hairstyle with Bobby Pins
Hair-kipedia
Where did bobby pins get their name? We know: the hair clips became popular in the twenties when many women had their hair trimmed short for the trendy bob (bobbed = cut short). The hair pins were used to keep the rather short strands out of the face. Supposedly bobby pins were also invented by a man named Robert 'Bobby' Pinot.