© Getty Images
Hairstyle Voting: Who is Your Undercut Champion?
The Undercut makes a statement. At first glance you may get the impression that it looks rebellious. Look again! This trendy hairstyle grows on you. Singers Cassie Ventura and Amelle Berrabah show how classy and elegant undercuts can look. Who do you think looks best with the undercut? Please vote!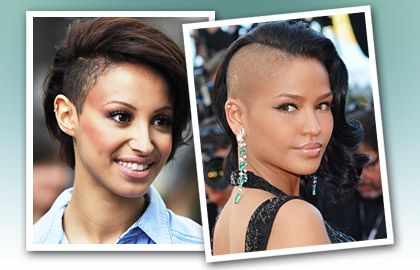 The undercut hairstyle has its origins in the metal rock and Goth scenes. The look involves shaving the lower portion of the hair or cutting it very short. The top hair stays long or longer. Meanwhile, the undercut has made its way to more established ranks. Quite a few prominent people helped making it a trend. Cassie Ventura and Amelle Berrabah look quite ladylike with their undercuts.
As far as their hairstyles are concerned, the two singers could be twins. Cassie Ventura is R&B singer, dancer and model. The US American singer entered the music scene with her debut album "Me & U". She first recorded her famous song as a birthday present for her mother in 2006. The British singer Amelle Berrabah is a member of the girl band "Sugababes" for many years.
Cassie wears her undercut with long top hair. She is definitely more daring in the details of her hairstyle choice than Amelle. Almost half of her scalp is shaved razor-short. In contrast, Amelle's choice is the light version of the undercut. This allows her to change her hairstyle to a short bob whenever she wants a different look. Her undercut with the shorter top hair probably does not turn quite as many heads.
Who carries off the distinctive look to her best advantage? Is it Cassie with her razor-short undercut and the long top hair? Maybe Amelle's somewhat tuned down version of the undercut, which leans toward the bob, appeals more to your taste. Please vote for your favourite version of the undercut.
Are you itching to try out the undercut? You may first like to audition the version, which does not involve cutting your hair razor-short. In his video, star hairstylist Armin Morbach shows in all detail how to style a mock undercut (without using scissors).
Video: How to style a fake undercut