© Getty Images
Step by Step to Nikki Reed's Faux Bob
At first glance you may get the impression that actress Nikki Reed cut her long hair. However, a closer look reveals the true nature of her faux bob. Her hair is still long and the chin-long bob is a very attractive illusion. This is a nifty way to audition a shorter hairstyle without cutting your hair and to change your look for a while. You can style this make-believe bob in just a few steps. We like to show you how it is done

Many enjoyed Nikki Reed in her role as Rosalie Hale in the movie version of the Twilight series by Stephenie Meyer. The actress is also well-known for her extraordinary hairstyles. At a red-carpet event, the US American actress, singer, and author appeared with the here featured mock bob. This hairstyle appears especially extravagant. It is just the right hairstyle to add an air of glamour to a plain outfit or special flair to a festive event.
The faux bob as demonstrated by Nikki Reed is a simple and effective choice whether you really play with the idea of changing your hairstyle to a bob, whether you like to audition the bob as your new hairstyle without cutting your hair or whether you simply want to look different or festive for a special event.
Tools to Style the Faux Bob as Shown by Nikki Reed
Waves and a lot of volume give Nikki Reed's asymmetric faux bob the soft playful note. Rolling your hair on curlers or using a curling iron is the best method to create the irregularly styled waves.

You need bobby pins, volumising powder, and hairspray to create this hairstyle.

Hair Tutorial: Nikki Reed's Faux Bob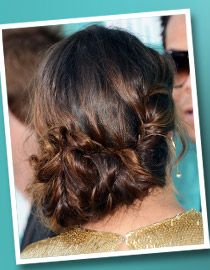 You can start styling the faux bob after you have created the waves. Styling is easier if you apply a little hairspray throughout the waves.
1. Create a low side parting.

2. Distribute a generous helping of volumising powder through your hair for ample structure and manageability.

3. On the left side, separate a strand of hair down to ear level and temporarily tuck it out of the way. In the final step, this strand of hair will be allowed to casually fall to the shoulder.

4. On the opposite (right) side, separate a strand of equal size and pull it back over the shoulder while twisting it close to the head to form a partial banana updo.

5. Secure the partial banana updo with bobby pins.

6. Now loosely gather the rest of the hair and the end of the partial banana updo in the neck to form a ponytail.

7. Fold the ponytail inward and up, and secure the ends with bobby pins. The look should be casual, even a bit tousled.

8. Some strands of hair may have escaped and stick out. Simply twist these strands into little spirals and secure these spirals with bobby pins.

9. Loosen the initially tucked away strand of hair on the left side, fold it inward and secure the ends with bobby pins.

10. Finally, apply extra-hold hairspray to keep the folded hair in place.