© Getty Images
Tutorial: Step by Step to Dakota Johnson's Hairstyle
Casting actress Dakota Johnson as Anastasia Steele in '50 Shades of Grey' raised eyebrows among fans of the novel and the respective movie script. Still, Dakota Johnson keeps her cool and promotes the movie wearing dazzling outfits and hairstyles. She is a force to be recognized!
Dakota is the daughter of Melanie Griffith and Don Johnson. So far, she is known as a model rather than as actress. However, landing the coveted role of Anastasia Steele in the popular and well-received novel '50 Shades of Grey' will soon change this. She approaches the role with quite a bit of awe. The novel and movie tell the story of a young student of literature who falls in love with billionaire Christian Grey with his appetite for unconventional sex. It is up to Dakota Johnson to make her character come to life in our imagination.

Actress Dakota Johnson started her big screen career with minor roles in movies like 'The Social Network' and 'The Five Year Engagement', which did not earn her much recognition.  She was far more successful as model, was booked by large fashion houses, and can already take credit for a few cover photos. Playing the lead role in the much anticipated movie rendition of a successful novel will open many doors for the young actress – if she can do justice to the demanding role.
Dakota Johnson: Ready to Meet the Critics
Dakota Johnson's penchant for modelling and acting shows up in her lifestyle choices. The young woman from Texas accepts no boundaries for the way she interacts with others through style and colour. A quick hair colour change from blonde to brown for a new role and switching from long to short hair at will is part of her playful nature. On a whim, her style may go from elegant to casual. At the 2013 LACMA Art & Film Gala in Los Angeles, Dakota Johnson appeared wearing a stylish banana updo. We liked the way she incorporated braided and twirled hair elements in the classic hairstyle.

Tools Needed to Style the Banana Updo Shown by Dakota Johnson
You will be able to create this hairstyle in no time at all. Simply follow our step by step instructions.
Banana updos look best if your hair is long. Volumising powder helps to give fine or thin hair the necessary thick appearance. Get a tail comb, bobby pins, hairspray, and hair wax ready to start styling this soft banana updo version.
Hair Tutorial: How to Create a Braided and Twirled Banana Updo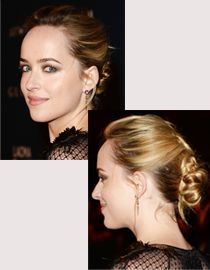 1. Use volumising powder and tease your hair to provide the necessary fullness.
2. Divide your hair into two strands, one top part for the French braid and one for the lower part, which will be twirled upward.
3. Apply a little hair wax to the upper layer of your hair to prevent fly-away hair. Now French braid the upper portion of your hair half-way to the neckline and secure the remaining part of the strand with bobby pins.
4. Apply some hair wax to the lower portion of your hair before twirling it upward to form a banana updo. Twirl the hair tightly so that it contracts into the sophisticated updo look.
5. Use the ends of the twirled hair portion to hide the bobby pins marking the end of the French braid. Bobby pins or hair pins help to secure the twirled strand of hair. Use hairspray for long hold.

Video: How to Style a Banana Updo