© Getty Images
How to Style Bérénice Bejo's Braided Chignon
Bérénice Bejo wore one of the simplest yet most spectacular hairdos at the Oscar Awards. Crown braids and a low chignon merged to a very intriguing hair style. Our step by step hair tutorial shows how to style this appealing hairdo, which delights at home, in the office, and on the red carpet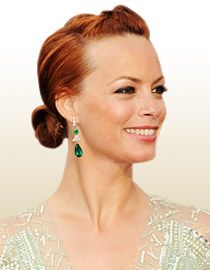 Ever since the silent film 'The Artist' swept the honours at the 84th Oscar Awards, the captivating Bérénice Bejo and the film swiftly went on to take the world by storm.
There was not an idle camera in the room when the Argentinian artist stepped on the red carpet in Los Angeles. Most were only familiar with her silent film image in black and white with dark finger waves. The actress surprised everybody with her smashing sage Elie Saab gown and a new hair style and colour to boot. Her crown-braided coppery hair merged into a low chignon. It was arguably the most beautiful hair style in the room. We would have gladly awarded her another prize for 'Best 2012 Oscar Hair Style'.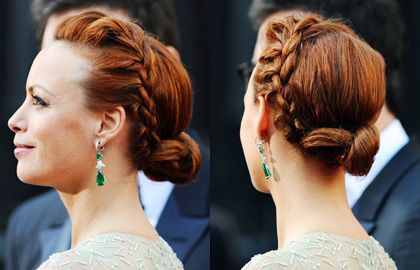 As a special accent, only strands of hair from the hairline were successively gathered and crossed over into Bérénice Bejo's French braid along the front hairline. The end of the braid and the remaining hair was twisted into a chignon with the end of the braid peeking out from underneath the twists. This hair style is quite simple yet also has an air of sophistication. We like to show you how you can create your own braided crown – chignon combination.

Tools for Creating the Braided Crown with Chignon:
Volumising mousse, paddle brush, hair dryer, scrunchy, bobby pins, extra gloss hair spray

Creating Bérénice Bejo's Braided Crown with Chignon:
Work some volumising mousse through your towel-dry hair to make sure that it has bounce and does not cling to the scalp. Briefly blow-dry your hair while hanging your head upside down to create even more bounce. Pull your hair from the roots to the ends through a paddle brush while completely blow-drying it.
Create a short deep-set side parting and separate a wide strand of hair around the centre of your front hairline. Divide this broad strand of hair into three smaller ones and create a crown-shaped French braid down to the neck. Only successively gather and cross over small strands of hair from the hairline into the hopefully even braid. Finish the French braid in the neck without gathering more hair.
Gather all hair in the neck to a ponytail and twist it until it turns into a chignon.
Allow the ends of the ponytail to stick out just a little from underneath the chignon. Secure the chignon using hair pins.
Apply some extra gloss hair spray as a final touch.