© Getty Images
Creating Busy Philipps' Hairstyle with Braid
Actress Busy Philipps' bright outlook on life and sunny nature attract like a magnet. Her cheerful attitude alone gets the attention of everybody around her. The braided element in her blonde wavy hair fits her style and looks both playful and stylish. Learn from our hair tutorial how to create braids and make them part of your styling arsenal
In the TV series 'Dawson's Creek', Busy Philipps made a name for herself as quirky Audrey Lidell. Ten years later, she is married with baby (daughter Birdie) and delights us in her role as Courtney Cox's best friend in 'Cougar Town'.
Her parents gave her the nickname 'Busy' because she never seemed to stop moving even as a small infant. The nickname stuck. As actress, mother, and screenwriter she lives up to this name. Her energy is part of her cheerful and positive attitude. Busy Philipps is married to screenwriter Marc Silverstein for six years and now expects their second child. True to her nature, Busy Philipps prefers playful styles with plenty of accents and colour. We see this preference in her hairstyles with sophisticated focal elements like braids, Alice bands and other accessories. She colours her hair blonde or in an extreme two-tone look with darker hair near the roots.
Right now, Busy Philipps likes to experiment with braided hairstyle elements. Her newest braided hairstyle features a deep side parting with a braid across the top of her forehead. She certainly has a knack creating hairstyles, which fit her looks and personality. We show how you can add this type of braid to your arsenal of hairstyle elements.
Tools to style Busy Philipp's hairstyle with braid:
Hair styling and setting product, styling gel, hair slides, hairspray, extra-gloss hairspray
Hair Tutorial: Busy Philipp's Hairstyle with Braid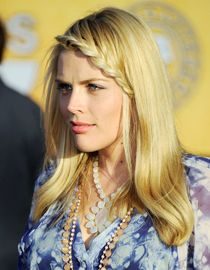 1. Be sure to comb (detangle) your hair thoroughly before you start creating the braid. This will make braiding much easier because your hair will not get tangled up in knots in the process. Applying hair setting lotion or mousse also gets the strands of your hair ready to slide into an artful braid.

2. Create a low side parting and apply styling mousse to the front part of your hair.

3. Start braiding your hair close to the side parting and keep braiding it in a slanted line across the forehead and along the side opposite the parting all the way to the hair ends. While you braid, keep gathering new strands of hair along the front hairline into the growing braid.

4. Secure the end of the braid near the hairline on the side or back of your head using hidden hair slides or clips. Allow the remaining open hair to fall over the end of the braid.

5. Apply hairspray on and along the braid for more hold. Extra-gloss hairspray provides deep lustre to the rest of your hair.