© Getty Images
Kate Mara's Asymmetric Semi-Updo
Actress Kate Mara intrigues both with her art and her hairstyles. Her latest hairstyle hit is an asymmetric semi-updo composed of a chignon, side-swept curls, and braids. Learn from our hair tutorial how to style all these elements and put them together one easy step at a time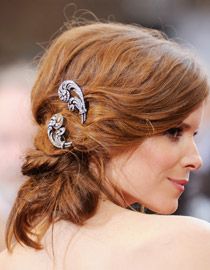 The name Kate Mara stands for having style and an understanding of detail. She is two years older than her sister, actress Rooney Mara ("The Girl with the Dragon Tattoo"). Kate Mara acted side by side with such well-known stars like Heath Ledger ("Brokeback Mountain"), Mark Wahlberg ("Shooter"), Ben Kingsley ("Transsiberian") and Eric Bana ("Deadfall"). Aside from her credits as an actress, the beautiful Kate Mara is also known for her unique red hair and intriguing hairstyles.
In an interview, Kate Mara was asked what she considers her best attribute. "My hair", she spontaneously answered. Indeed, her red hair is quite remarkable. It certainly increases her visibility in the line-up of Hollywood beauties. The now 29-year old actress started to wear red hair as a little girl. After dazzling us with her braided sideways ponytail and semi-updo, Kate Mara captured our attention at the 2012 Oscar Awards with her inimitable updo. At the 2012 Emmy Awards, she once again managed to intrigue us with her exceptionally beautiful hairstyle. Her asymmetric updo was composed of a chignon, braids, and side-swept curls. We like to help you create this beautiful hairstyle at home.
Styling the Asymmetric Semi-Updo with Chignon and Braids:
1. Use a large-diameter curling iron to curl you hair starting at ear level. Don't forget to apply heat protectant first!

2. Create a straight side parting on the left side.

3. Separate an about 2 inch wide strand of hair on the crown of your head and temporarily secure it on top of your head (strand A). (Later, this strand will be allowed to fall over a braid and another wide strand of hair.)

4. Starting at the side parting, French-braid you front hair. Now and then, drop a small strand of hair while you continue to braid.

5. Once you are done braiding, gather the hair into a casual ponytail on the right side of your neck.

6. Twist the ponytail until it forms a loose chignon and secure the chignon with hidden bobby pins.

7. Pick up the temporarily pinned up strand A (see point 3) and allow the hair to fall over the braid and the loosely falling hair.

8. Finally, use hair wax to accentuate the curls and apply hairspray to secure the semi-updo.