© Getty Images
The Best Short Haircuts for Thick Hair
Dare to take the next step: A full mane offers outstanding styling potential, even in the short version. From wow-volume to an impudent fringe – these three hip cuts prove you've got savvy and present thicker hair to its best advantage

Fine, curly, wavy, thick... Hair texture has a major influence on the final look no matter what the cut. More volume, lightness or an extra kick? Your every wish can come true with the right hairdo! Even if you prefer a short cut. For women with an opulent mane, numerous good reasons speak in favour of going from long to short. We present our top 3: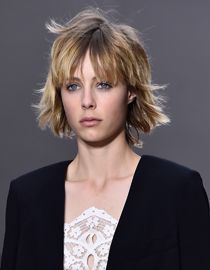 Indulge your mane with a change in texture every now and then. A layered cut is especially effective here, visibly and perceptibly loosening up your hair. The classic shag is highly recommended for thick hair textures in particular.
It is a strongly layered fringe cut, somewhat shorter in the top layer. The best thing about it: Since the hair is thicker, the individual layers are clearly defined for an exciting, clearly accentuated appearance.
This in turn grants you even more styling freedom:
Defined strands (simple to do with gel or wax) create the cool undone look, while loose waves form the casual, feminine swingy shag or swag.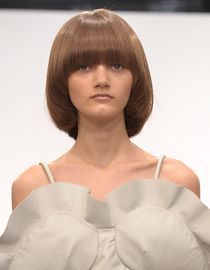 The bob is ideal for those who want to emphasise the benefits of thicker hair. With a chin-length blunt cut, slightly layered at the front, the hair gently caresses the face for a serene, well-kempt look that is sure to please. Thick hair has a particular advantage with the bob: volume. Elaborate blow-drying is eliminated since the hair falls perfectly with this cut. To create this favourite hairdo in the retro style – highly popular at the moment – all you need to do is turn the ends in slightly. A feathery fringe cut at an angle makes the accurate bob appear less severe and gives the full mane a modern kick.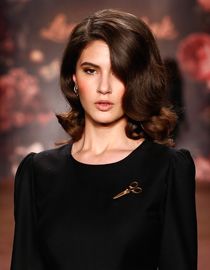 You desire glamour galore? A peppy long bob (lob) is the answer. This trendy hairdo is no more than shoulder-length, representing the golden mean between a long mane and short cut. It is ideal for anyone who just cannot decide or is looking for an attractive transition look. Make waves of enthusiasm by styling this hairdo with soft curls. They add extra volume and give thicker hair a feminine, classic twist. If you want to get a bit more elaborate: A side parting and hairdo that falls low into the forehead bring back the classic old Hollywood diva style!