© Fotolia
Hair Products and Styles for Hot Summer Days
Time spent in the hot summer sun and having fun at the beach or poolside requires simple hairstyles and extra care. We show two summer hairstyles and introduce suitable styling and hair care products with enticing fragrances
The summer sun, the chlorine in swimming pools or the salt water of the ocean take a toll on our hair. Luckily, protection and care are easy. Hats are beautiful, stylish, and they protect the hair from UV light. For fun times you should avoid rigid hairstyles and a lot of styling products. We show hairstyles for your favourite summer activities and suggest light styling and hair care products for hot summer days.
Summertime Hair Products - Salt Spray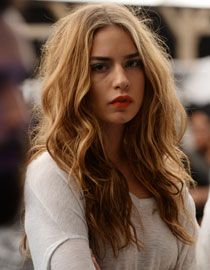 Casual beach waves are as beautiful on the beach as they are at a summer party. Beach waves are a steady part of the summer hairstyle arsenal.
Salt spray helps to create the undone character of beach waves.
Styling: Apply salt spray to damp hair to create large, naturally looking waves.
Apply salt spray a second time to add volume.
You may want to repeat the process on hot summer days.

Salt sprays also contain a slightly oily substance, which protects the hair from drying out in the summer sun.
Summertime Hair Products: Hair Lightening Spray
Lightening sprays are part of the summer styling arsenal of many blonde women. Step by step, these sprays gently lighten hair and give it a fresh outdoor look. 
Styling: Apply the lightening spray to you damp hair and distribute it through your hair using a comb. Then allow your hair to air-dry. Repeat the application after two or three days.
Left: Lightening spray makes blonde hair look lighter without the use of hair dye
Summertime Hair Products: Hair Oil
Hair oil can be beneficial not only for thick dry hair. It also prevents and treats sun damage.  Just a small amount of hair oil can prevent the hair from drying out. With the right strategy, hair oil brings out the best qualities in the hair of every woman. Of course, the right strategy is important.

Use three to four drops of hair oil for thick hair. No more than one to two drops are needed for fine hair.
Method 1: Apply the hair oil to the hair ends before the shampoo and allow it to work for a few minutes. Then rinse your hair and shampoo as usual. Your hair will be clean and fit for a sizzling summer day.
Method 2: Apply the hair oil as finishing touch. The oil serves as shield to prevent the hair from drying out in the summer sun and heat. Distribute the hair oil in the palm of your hands and apply it to the hair ends.
Use only one of the two methods at a time and per day.
Summertime Hair Products: Hair Care
After a long day at the beach or pool-side, wash your hair to remove all residual salt or chlorine. A conditioning hair rinse prepares your hair for another day outdoors. You will enjoy the uplifting fragrances of summer hair care products such as pomegranate, goji berry or coconut.