© Getty Images
Beach Hairstyles
Beach waves are the ideal hairstyle for summer fun at the beach. Aside from beach waves, we show you four more hairstyles, which are ideal for beach vacations. Simply twirl, braid and pull up your hair for particularly comfortable hairstyles on hot days
Beach Style 1: Beach Waves
Cool beach waves are the prototype of a practical and beautiful hairstyle for fun days on the beach. The casual hairstyle can be easily styled using a curling iron (see the video instructions by Armin Morbach below). To create the characteristic rough hair structure of nature-made beach waves salt spray and hair wax take the roles of salty ocean water and sun cream residue inadvertently transferred to the hair. The wax is also used to create lustre and to accentuate select strands of hair.

Video: Styling Beach Waves
Beach Style 2: Braiding the Front Hair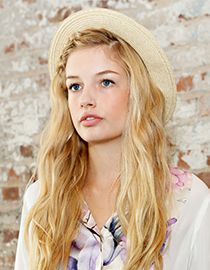 Women with long enough front hair above the forehead may want to keep this hair out of the face by French braiding it in the way of crown braids. Simply create a low side parting and pick up an about 2-inch wide strand of hair along the side parting toward the crown of the head. Now start French braiding your hair along the hairline above the forehead by braiding new strands of front hair into the growing French braid. You may want to wear a stylish hat as eye-catching accessory and to protect your hair from heat and UV light.
Beach Style 3: Twirling the Front Hair to the Side
Twirling the front hair to the side is the easy way to keep hair out of your face. A wide strand of hair is separated on the side of the head and twirled while pulling the twirled strand across the forehead and then toward the back. A few bobby pins or a hair slide will hold the loosely twirled hair in the back. The hairstyle also looks beautiful with medium-length hair. In another version, the twisted front hair is gathered into a ponytail together with the rest of the hair.
Beach Style 4: Pulled Back Hair on One Side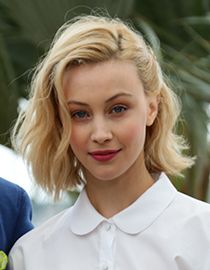 Hairstyles tousled by a summer breeze are part of summer like the calling songs of crickets. In our favourite summer hairstyles, the hair falls unrestrained or is loosely pulled back. Actress Sarah Gadon (left photo) demonstrates a pretty combination of casually styled wavy hair of medium length. The hair below the side parting is pulled back and secured in the back of the head. On the opposite side, the soft waves fall playfully into her face. You may want to create extra volume and style the covering hair into a trendy side flip.
Beach Style 5: Pulled Up Hair on One Side & Ponytail
In a fresh new version of the classic ponytail, the hair is parted in the middle and on one side gathered in a ponytail above ear level (use a scrunchy or bobby pins). The hair on the opposite side may be pulled back or styled across the ear to further enhance the asymmetry of this hairstyle. Finally, the entire hair is loosely gathered into a low ponytail.