© Getty Images
The xLaeta Video Blog on Hair Styling
Julia of xLaeta vlogging fame impresses us with inspiring hair styling ideas and her girlish charm. She is also an accomplished hair colouring expert
Bloggers are a force to be reckoned with in today's fashion world. Vlogger Julia of xLaeta has made a name for herself with creative video tutorials on hair styling, inspiring Instagram posts, and well-received Facebook contributions. We introduce blogger Julia and feature her interesting hair styling vlogs.
Introducing Julia and Her Video Blog 'xLaeta'
18-year old Julia is a talented star in the video blog world of fashion, hairstyles, and trends. She provides a lot of inspiration for her many young followers on YouTube. Her site features topics for young people like '10 Hairstyles for Students as Seen in the Movies and Series' with a straight-forward and endearing attitude.
In good spirit and with girlish charm she talks about new trends in easy to understand terms. The young student entertains like a pro. On YouTube for example, she introduces other hair styling bloggers such as the creator of 'alwaysxcaro'.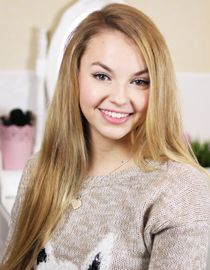 Her interest in fashion and styling came natural for Julia. Early on in life, Julia experimented with her mother's makeup. 'As little girl I nicked my mother's makeup again and again to hide and try my hand on applying makeup' she confessed. Today, without the thrill of delinquency, Julia shares her makeup routines and hair styling experience with her peers. Julia's motto is 'Just Do it': 'In general, I recommend experimenting with your own hair to find the style, which suits you. Once you have found your personal style you can start optimising your hair care regimen'. In her own hair care, Julia insists on using hair oil. 'Hair oil keeps the hair ends look healthy and maintains beautiful lustre!'
Blogger Julia prefers classic hairstyles such as styles with middle parting or austere looking ponytails. Right now, clavi-cut hairstyles intrigue Julia. However, so far, she has not cut her hair: 'I believe that I would miss my almost hip-long hair in the long run. Still, the clavi-cut is a tempting option'. Julia often enhances her styling with volumising powder 'for extra flair'.
Hair Styling Instructions: The Bobby Pin Triangle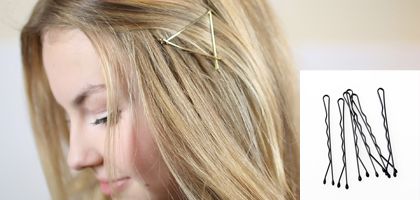 Julia likes to add nifty details to her hair styling. Here, she uses a triangle made of three bobby pins to create the classic school girl style. Learn how to create this hairstyle below:
Step by Step Styling Instructions for the Bobby Pin Triangle
1. Create a middle parting.
2. Take a strand of front hair next to the parting and pull it down and back.
3. Overlap the ends of three bobby pins (smooth side up) to form a triangle.
Tip: Dependent on your hair colour, you can vary the bobby pin colour. Black bobby pins stand out in blonde hair while golden or silvery bobby pins contrast well with brown or black hair.
Hair Consultation with xLaeta
Julia colours her own hair. She is quite familiar with hair colour changes and mostly switches between various blonde shades such as ash and strawberry blonde. On xLaeta, Julia recommends two-tone colouring if you do not want to completely change your hair colour: 'It is the modern way to bring some colour into your hair'.
In her video, Julia assists her followers with making good hair colour choices.
Video: The Best-Suited Hair Colour for You