© Getty Images
Video Blog with Hairstyling Instructions: 'TheUniqueCarina'
In June the curtain goes up for YouTube blogger Carina! The Munich native attracts followers with the motto 'Be unique, be you!' and her blog "TheUniqueCarina" is about the good things in life: beauty, styling and hairstyles. Does the blog name keep its promise? See for yourself!
'A never ending journey' is how Carina answers the question about her hair colour. The pretty native of Munich designs her blog 'TheUniqueCarina' with the same playfulness and smarts exhibited by her responses in our interview.
Carina's video blog 'TheUniqueCarina'
Bold sound and clear words – that is how Carina entertains her community, offering valuable tips related to styling, hair and more. The blonde explains her (beauty) world with amusing anecdotes, laying it on the line. For instance, the hairdresser taking off a full 15cm of hair instead of trimming the ends gets cut down to size.      
By the way, the 26-year-old prefers to wield the scissors herself since then when she has split end problems ('Unfortunately I am always battling split ends in spite of thorough care'). In a video she explains to her fans what to watch out for. Clever, practical, good!
Video: Cutting your own hair/trimming split ends
Close-up: More about Carina
A name for Carina's blog was quickly found: 'I find the word 'unique' very inspiring, it not only sounds nice but also has a fantastic meaning: inimitable or one-of-a-kind!'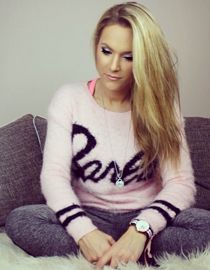 The blonde is as uncomplicated when it comes to styling as the naming of 'TheUniqueCarina' was simple: 'Mostly I decide spontaneously what to wear. I get up in the morning and pick by feel.' Sounds plausible, but we cannot buy this rashness on her part entirely. Inside Carina too there is a girl that thinks about happening make-up, cool looks and trendy hairstyles. She herself admits: 'Since I'm a woman, I'm always thinking – for example about a new hair colour! I've done a lot of experimenting with that, but I definitely feel most comfortable as a blonde!' As a YouTube-certified styling expert (more than 54,000 subscribers), the blonde has a solution to just about any hair problem: 'A tight ponytail tied high for bad hair days, light beach waves to make you feel good, and highlights for more movement in your hair.' Duly noted. What about hair care? The vlogger advises 'hair oil to keep the ends from drying out, and a deep weekly treatment to moisturise the hair'. Super, thanks!
Hair styling instruction: Ponytail with strand of hair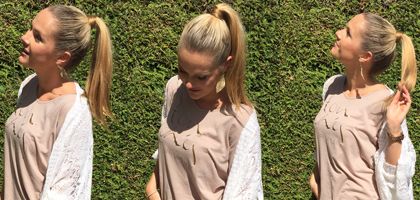 Whether on bad hair days or just because you are in the mood – Carina has declared the severely slicked back ponytail tied high a must-have hairstyle! She refines the classic ponytail look with a strand of hair wrapped around to cover the hair elastic.
What you need for the sleek ponytail:
Straightening iron, heat protectant, hairbrush, hair oil, hair pins, hair elastic, hair spray

How it's done:
1. Apply heat protectant to dry hair and work it in with the straightening iron.
2. From the hairline, comb the hair back tightly and add some hair oil to the mane while combing to guarantee the sleek look.
3. Tie your hair into a high ponytail and pin back any loose hair with hair pins.
4. Take a wide strand out from the bottom of the ponytail, wrap it around the hair elastic and then secure it with hair pins.
5. Finally, secure the style with hairspray and you are done!