© Getty Images
Video Blogger with Hairstyling Instructions: 'LoveTheCosmetics'
She is enjoying the best of life: Anna of 'LoveTheCosmetic' has made beauty her vocation. In her video tutorials, she creates star hairstyles (preferably with braided details) with dedication, charm and wit, or plunges into beauty tests! Her efforts are well received
We have 'LoveTheCosmetics' fever! 'Playful, casual and relaxed' is how Anna from 'LoveTheCosmetics' describes herself and her style. Which is exactly why the 25-year-old made it to our top vlogger list! Her positive attitude is contagious and we are far from the only ones to recognise this – nearly 140,000 subscribers are already following the lively brunette on YouTube: from the front or from behind, she's A-N-N-A! Pure Anna with valuable hairstyling tips just burning to be shared with the beauty world: 'Sharing the way I approach things with other people is an incentive for me,' she says. And we say: Thumbs up!
Anna's Video Blog 'LoveTheCosmetics'
Boundless beauty: Anna's beauty pointers are so creative that the international competition could definitely learn a trick or two from her. The young blogger has far more in store than the ponytail, chignon and beach waves.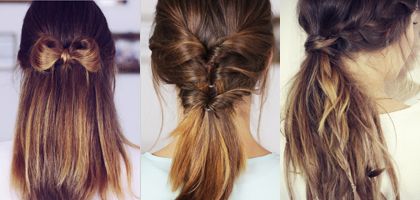 'I have always received compliments for my hairstyles and the other creative things I do,' Anna tells us. 'It was nothing special for me and I thought, if I can do this, so can anyone.' Modesty is a virtue and her willingness to make her creative tricks available to others led to the sudden birth of 'LoveTheCosmetics'. The interactive 'Hairstyle Friday' is a special highlight. It lets her fans request hairstyles by Instagram or Facebook, followed by Anna realising and explaining them in a video. A romantic hair ribbon, sophisticated twirled braid or undone braided hairstyle – for the likeable hair expert, no look appears impossible! Anna goes all out for her fans and knows exactly what is expected from her: 'It makes me happy that viewers ask about me and enquire how I am doing when I haven't been online for a few days. It seems crazy that my videos are a permanent part of some people's routine – but I like it.' As fulfilling as blogging is for the student, she has to wrestle with negative aspects as well: 'Finding out that sometimes you just need to perform as a YouTuber is hard. Making a video is definitely not easy when you just don't feel like it!' Thanks for your honesty, Anna.
Close-up: More About Anna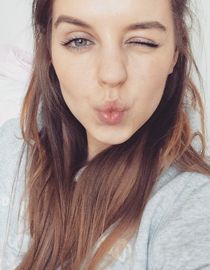 'My hair texture unfortunately tends to be moody and my hair colour is like a seashell: different depending on the light,' Anna philosophises, piquing our curiosity!
She also admits that her 'blonde phase' was probably the leading hair colour trend of her life. Not because it was appealing, but because Anna is now definitely able to say she is no blonde: 'Dying it was so laborious.
I was not happy, it just wasn't the right look for me.' But of course the trendsetter had to try it anyway.
The beauty blogger is just as open when it comes to her own hairstyle.
'I love braiding in all forms, techniques and variations.
It spices up any look and always creates a romantic eye-catcher!' Her personal styling/care tip for almost any hairstyle: 'A bit of gloss at the ends never hurts!' This is where Anna likes reaching for the all-rounder – hair oil – and finds: 'It makes hair feel velvety with a wonderful fragrance.'  
So would you like a 'LoveTheCosmetics' hair makeover? In her video, Anna shows step by step how you can create a sophisticated braided hairstyle. Hit the play button, braid, go!
Video: Two in One (for Mid-Length to Long Hair)