© Getty Images
Video Blog with Hair Styling Instructions: 'alwaysxcaro'
Every month, we feature the video blog, which impressed us the most. This time, it is Carola's video blog 'alwaysxcaro'. The site of the charismatic blogger entices with playful styles, easy to follow hair styling instructions and music. We could not help but being captivated by Carola's aubergine-red hair
With her dark red-coloured hair, light complexion and her flower-power style, Carola's appearance reminds us of Florence Welch, the lead singer of the rock band 'Florence and the Machine'. Carola is an exuberant whirlwind with a pinch of romantic flower child attitude added for good measure. Carola's passion is her YouTube site 'alwaysxcaro' with fashion and beauty tips.
Carolas Video-Blog "alwaysxcaro"
Even though Carola enhances her YouTube videos with interesting sounds, music is not her first passion. The sound tracks are yet another detail, which make her videos so attractive and invite visitors to dream of marvellous things to come. Her fashion, hairstyle, and video tutorials show her talent for storytelling. Some of her stories are wild while others are romantic. However, all of them are told with engaging passion. Her love for detail and passionate involvement make her blog so captivating.
The festival season is in full swing. This inspired Carola to take us on an imaginary video journey to the Coachella Festival to the sounds of the Max Brodie song 'For the Better'. Fashion blogger Carola never visited the legendary open-air festival in California. Until she gets her chance to visit the Coachella Festival, she imagines being there, 'Travelling to Coachella one day is one of my dreams!' For now, her personal Caro-Coachella Video Style Book will have to do.
Video: Coachella Lookbook I Summer Festival 2015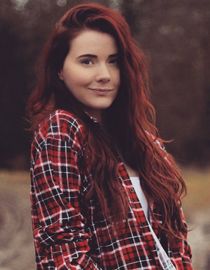 'In the past, I kept looking for hair styling videos with German language instructions with little success. This made me think of starting my own blog in the German language.' Action followed the idea. For two years now, 21-year old Carola offers easy step-by-step hair styling instructions and valuable hair facts to her followers. Carola styles her own hair in a rather uncomplicated way. 'Right now, I really like my long hair. Besides, I can easily style my hair using a curling iron. This makes styling faster in the morning.' However, even hair styling experts have to deal with hair problems. Sebum readily accumulates on her scalp and the hair ends are rather dry. We asked Carola how she handles those problems: 'I try not to expose my hair to too much stress and stay away from using five different products every day.'
In her blog 'alwaysxcaro', Carola takes a stand for using colour freely. 'I see more and more colourful heads lately. This is so cool!' redhead Carola raves. Her hair colour certainly makes her part of the trend. 'If I was asked to describe the colour of my hair I would do it in terms of a slowly dimming camp fire. The colour of a regular fire would not describe the dark red of my hair', explains Carola. Caro Carolissima, we fall for your style!
Hair Styling Instructions (alwaysxcaro)
Every woman needs a set of sure-fire hairstyles. Carola opts for braided styles for guaranteed success. 'These hairstyles may have small braided elements on the sides, they may be defined by a large herringbone braid or involve simple or French braiding. I always feel good wearing a braided hairstyle'. Carola's video blog shows her best braided hairstyles:
Video: Five Braided Hairstyles