© Getty Images
How to Style Hair for Athletic Activities
Ideally, hairstyles for athletes can be quickly styled while they still look modern, stylish, and appealing. We share with you how to appropriately style hair for athletic activities and provide detailed styling instructions
For a long time, the prototype of an athlete's hairstyle involved quickly brushed back hair, which was then pinned back and held back by all means imaginable. Times and standards have changed since. Hairstyles for today's athletes are practical and appealing at the same time. We show you examples of popular hairstyles for athletes and provide step-by-step styling instructions.

Styling Hair for Athletic Activities: The Ponytail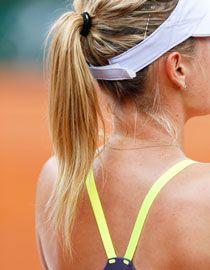 It is hard to imagine modern hair styling without falling back on the always practical ponytail. Athletes in particular embrace the sassy and beautiful style.

1. Thoroughly comb your hair to remove all tangles and knots.

2. Add a small amount of styling mousse or gel for more bounce and manageability. This facilitates styling and keeps the hairstyle intact through the hardest training sessions or competitions.

3. Gather your hair in the back of your head using a scrunchy. Where and how high you bind the ponytail is a matter of your preference and the planned athletic activities.

4. You may like to loosen the ponytail a bit for a casual look by putting one hand flat over the scrunchy while pulling up the ponytail and scrunchy. This will slightly lift the hair on the crown of your head.
Styling Hair for Athletic Activities: The Braided Ponytail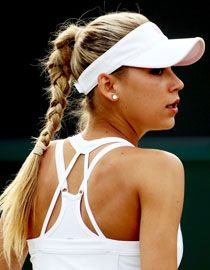 Braiding a ponytail only adds a few minutes to your styling efforts.

1. Follow steps 1 and 2 of our styling instructions for a ponytail.

2. Now gather your hair in a high ponytail and apply a trace of hair oil to the hair ends.

3. You are now ready to braid the ponytail in the desired style. Tightly secure the braid using a scrunchy at low end.
Styling Hair for Athletic Activities: The Wet Looking Chignon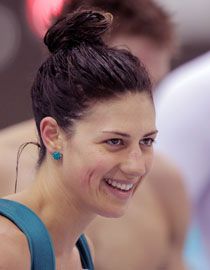 Female athletes also love to wear chignons. Swimmer Stefanie Rice styled her high chignon in the wet look for optimum hold even during her swims.
1. Distribute an about hazelnut-sized dollop of hair gel across the palms of your hand.
2. Then stroke your dry hair using your hands. You may like to add more hair gel if needed.


3. Gather your hair into a ponytail on top of your head toward the back.

4. Twist the hair in the ponytail until it easily contracts to a chignon. Then secure the chignon as needed.