© Fotolia
New Hairdos for Sports
Whip not only yourself but also your hair into top shape: To make sure you do not break a sweat while styling, we chose only the best fitness hairdos. From aerobics to Zumba – no matter what your favourite workout may be, you are guaranteed to succeed with these outstanding hair looks
Same old ponytail... Sounds familiar? Welcome to the club: Sport styling usually focuses just on the practical, so you tie your hair back in a quick and simple ponytail before training. The fitness classic has proven itself – it can be styled in next to no time and keeps the hair in place no matter how you move. But just as in training, a bit of variety is welcome in styling – and usually that comes out in the details.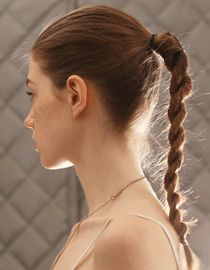 Time to twist, braid and twirl! Popular sport hairdos like the ponytail and chignon are being reinterpreted with a fresh twist. The great thing about that: These sophisticated sporty styles really are child's play, perfectly taming both longer and short hair. Score a point for creativity. And with the right accessories, you earn even more points: The yoga mat, treadmill and boxing ring are transformed into the new trend arena thanks to flexible hair bands or cool hair rings.

Experience the joy of sports! Here are our top 6: Fancy fitness hairdos for Pilates, Zumba and more. Get active!
Warm-Up for Your Hair: The Top 6 Hairdos for Sports
This classy bun is ideal for keeping mid-length to long manes out of your face during running, gymnastics, swimming and stretching. The great thing about it: While this bun looks super sophisticated and elaborate, it is quick and easy to style. Our tip: Use a chignon pad for this sporty styling. This gives the hairdo even more volume and hold, keeping it in shape even during intense floor exercises. A flexible band serves as an attractive accessory that is not only trendy but also tames shorter hairs over the temples, forehead or fringe

For those who do not want to go without the long hair look even while training, the half bun is a great hairdo choice. A tousled knot made from the top hair and crowning the head is the trademark of this ultra-casual hairstyle. Loose strands falling out are OK too. That makes it especially well suited for workouts like Pilates or yoga – the hair/fringe does not fall into the forehead in support positions (hand stand, sun salutation), nor does it press on the back of the head or neck during exercises performed lying down
A champion, not just in the ring: Boxer braids have become a promising look outside of fitness studios and sports parks. The double braids are the new favourite on catwalks, street style photos and star selfies. Yet the former fighting sport hairdo remains ideal for endurance and power training. All of the hair is braided severely in two strands from the forehead (French braids) – so that everything stays in place during jumps and kicks. Not to mention you will look like a trend leader by wearing one of the most popular hairdos. Those looking for added extravagance in their sports styling can decorate the boxer braids with hair accessories like these cool piercing rings
Prima ballerina! The hair knot is among the most classy fitness hairdos. But we are presenting the ballet knot in a new look. This sophisticated version is styled low at the back of the neck as usual, but twirled rather than knotted like the classic version. Our tip: Instead of twisting up all of the hair, first part it into several strands (at least two) and twirl them together to form the chignon. Secure the chignon with hair pins and spray so it will stand up to any dance. By the way: The greater the number of pirouettes, in other words the finer and more numerous the twirled strands, the more detailed the result

Your usual ponytail could use an active upgrade? This styling is sure to transform the ponytail into an eye-catcher – especially while training. The bubble braid is excellent for keeping the hair out of your face in front while making sure nothing gets knotted in the ponytail. In order to style it, tie up your hair and part off sections with several hair elastics (either discreetly in the hair colour, or in a mix of colours to make a statement). Then pull apart the sections between the hair elastics to create the special bubble look
Nordic combination: Why just one hairdo when you can create an absolute trend hit with two? The team consists of braids close to the skull (known as cornrows) and a high chignon. You score extra points by demonstrating that you have mastered more than one styling discipline. Added benefit: Bothersome strands stay out of your face as your hair is kept firmly in place. This look is powerful, stylish and athletic
Sporty Hairdos: Chignon with Hair Band
---
This classy bun is ideal for keeping mid-length to long manes out of your face during running, gymnastics, swimming and stretching. The great thing about it: While this bun looks super sophisticated and elaborate, it is quick and easy to style. Our tip: Use a chignon pad for this sporty styling. This gives the hairdo even more volume and hold, keeping it in shape even during intense floor exercises. A flexible band serves as an attractive accessory that is not only trendy but also tames shorter hairs over the temples, forehead or fringe