© Indigitalimages.com
Sleek Style Variations for 2015
The silky flow of smooth shimmering hair suggests elegance. Sleek hair naturally falls in simple expressive lines. This fits well into today's penchant for minimal design. We show how to create new sleek hairstyle variations
'Less is more' is the motto for modern minimal art and design in 2015. In recent years, plain but elegant designs set new design standards in the fashion industry. Low-key fashion choices indicate confidence and success. The plain, laid-back style is here to stay! The style with its straight lines, geometric patterns and restrained colours appears to flatter everybody.
Sleek hair is created to fit the modern minimal fashion style. A few accessories keep the minimal style from being bland. The restrained and tasteful use of accessories lends focus to plain outfits and hairstyles and it adds brilliance to the plain elegance of minimal fashion styles.
Sleek Hairstyles with a Twist
In 2015, designer Christophe LeMaire had the models wear completely straight hair with twirled back side hair (see the photo above) in his fashion show. The sleek black hair with the interesting twist and the white outfit add up to a pleasing, consistent style.
The sleek hair is braided in cornrows for a hairstyle reminiscent of a side-cut. The accurate side parting fits well to the cornrow element. The braids add a focus point to the completely straight hair creating this way variety in an otherwise purist style. The model wears a minimal design outfit in muted colours.
Sleek Hair from the Roots to the Ends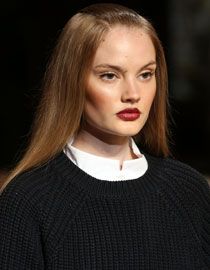 Sleek hair looks particularly impressive when it is long and cascades over the shoulders like a silk curtain. The straight hair over the forehead is combed back for a particularly elegant and trendy style. Sleek is synonymous with smooth and glossy. The proper hair care is therefore essential.
Left: This model for the David Jones Label wears long sleek hair on the runway. The hair above the forehead is styled back
Below, you find a few important tips on keeping things smoothly with sleek hair styles:·      
Use a hair treatment twice a week to provide extra care and shine.


Always apply heat protectant before using a flat iron to straighten your hair.


Apply a small amount of hair oil to the ends of your hair to create softly flowing silky hair.


Apply extra-gloss hairspray to create the desired glowing quality of your hair.
Video Instructions for a Sleek Hairstyle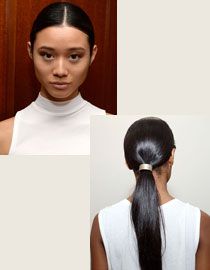 Many different sleek hairstyles can be created once the hair is straightened. Arguably the simplest version is the ponytail. The simplicity is enhanced by the accurate middle parting and the shiny metal clasp. The elegance and appeal of this hairstyle are derived from the simple lines and the deep glow of the long silky hair.
Left: For the Haze presentation, the models gathered their sleek hair into ponytails using metal clasps

In his video, Schwarzkopf hair expert Armin Morbach shows sleek hairstyles and how to prepare your hair for sleek styles.
Video: How to Create Sleek Hairstyles