© Fotolia
Styling the Beehive Updo
Audrey Hepburn made the beehive updo popular more than half a century ago. To this day, women like the much adored contralto and song writer Amy Winehouse embrace various forms of this style. Through the ages, piling up plenty of hair on top of the head often with pretty ribbons and accessories has been an artistic hairstyle choice for festive occasions. We show the modern way to create classic and mini beehive updos
Are you smitten with 1960s hairstyles and particularly with the beehive updo made famous by actress Audrey Hepburn? Right now, the vintage beehive is back in style. The hairstyles of the 1960s reflected the prevailing spirit of youth and confidence of their time. Even after more than half a century, the 1960s hairstyles have not lost their charm. Many of the 2015 beehive versions are not quite as exaggerated as they used to be in the 1960s.
Classic (Piled up High) Beehive Semi-Updo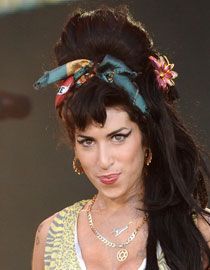 After her debut in 2003, charismatic soul singer Amy Winehouse solidified her career in 2007.
Her beehive updo turned heads.
Soon, her penchant for 1960s hairstyles became part of her image.
Her fans adored her performances with or without poufy hair adorned with ribbons, bandanas, and flowers.
Left: Singer Amy Winehouse († 2011) loved the extravagant beehive semi-updo with eye-catching bandana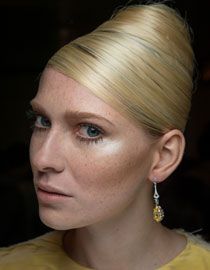 This 2015 style beehive updo avoids the extremes in favour of elegance with a hint of glamour. In this variation, a low side parting causes a departure from the classic beehive style. In the back, the hair is styled into a banana updo rather than a beehive. Despite the moderate volume, this modified beehive like updo still has the original charm of 1960s hairstyles. In this form, the updo is reminiscent of the austere look of the Twiggy era and the artistically piled up mane of Brigit Bardot.
Styling Instructions for the (Mini) Beehive Updo
The hair should reach past the shoulders for a voluminous beehive updo.
1. Create a side parting and – with the exception of the top layer of hair - tease the hair strand by strand beginning at the roots.
2. Use a hair donut for a little extra space inside the beehive. Take a thick strand of hair from the crown of your head and pull it through the donut hole. Now drape the ends of the strand around the donut.
Tip: Use an extra-large hair donut to create the genuine 1960s style skyscraper among beehives.
3. Tautly comb the hair over and across the hair donut. Then shape the hair ends into a banana updo.
4. Secure the hairstyle with bobby pins and apply extra-strong hairspray.