© Getty Images
Comb-over: Side Parting Style for Men
Keep it consistent? To wear the popular gentleman's look, combing the top hair accurately to one side is essential. The elegant, trendy hairdo with the side parting is known as the comb-over. Why you should take note of this style…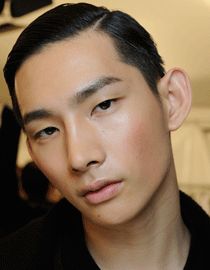 Boldly look to the past to find today's perfect hairstyle: in the 1960s only one haircut for men was perceived to make HIM a true gentleman. The main aspect: shorter on the sides and back of the neck, with longer top hair. The second key characteristic: longer top hair was then combed into a severe side parting. Also used often to hide thinning hair at first, this side parting style known as the comb-over honestly does not require any special skills. At least that is what the name comb-over indicates. But that sounds far too unassuming, since the hair is combed to the side with great care. Everything should be styled in top shape. What's more, the hairstyle with landed gentry charm has evolved. Currently the comb-over is presenting itself in a new version – the style looks refreshing with long hair. Ideally in the wet look (clearly visible lines from the comb are desirable!), with the longer sides simply gelled back. That is the look of today's gentleman. 
From classic to extravagant: we present the best side parting hairstyles for modern men in our gallery.
Comb-over: Side Parting Style
The appearance of a true gentleman is rarely associated with a full beard – but thanks to the chic look of hair with a side parting, this is an awesome combination. Hipsters love the mix of beard and dapper hairstyle. A styling that makes a statement. Absolute plus with the comb-over: the perfect side parting makes the widow's peak less conspicuous
The low side parting in short hair still counts as a classic – and has lost none of its cool charm today. This tidily combed style makes a self-confident and cultivated impression. Here it is important for the cut to be tailored to the head shape, with the back of the neck exposed and the sides shorter than the top hair. Very retro!
The side parting appears more extravagant with a men's mane that is longer than chin length! Admittedly you will look for a lusty gentleman's hairstyle in vain with this cut, but long hair with an accurate side parting is a hip eye-catcher. Styling tip: be sure to wear the hair sleek (smooth and gleaming)
Captivate with sharp contours: a severe side parting is ideal, especially with mid-length hair. Simply style the top hair to one side as usual with a low parting, combing the rest on the side just as carefully and neatly behind the ear. Trendsetters are currently taking off with this very own comb-over styling!
Comb-over with Beard
---
The appearance of a true gentleman is rarely associated with a full beard – but thanks to the chic look of hair with a side parting, this is an awesome combination. Hipsters love the mix of beard and dapper hairstyle. A styling that makes a statement. Absolute plus with the comb-over: the perfect side parting makes the widow's peak less conspicuous