© Getty Images
Braiding Hair: The New Rasta Look
Braid now! With the revival of nineties hairstyles, Rasta braids have crept back onto our heads again. Caribbean feeling included. Perfect summer hair: Style icons like Rita Ora are already wearing the trendy afro look. We also offer a soft dreadlocks version to get in the groove
New summer, new look. Rasta chic (both braided and twisted) makes a perfect summer hairstyle that not only looks highly elegant but is also incredibly practical!

You should choose the new Rasta look because...
...it makes you a trendsetter
...it quickly gets hair out of your face
...it offers numerous styling possibilities
...it guarantees a new look without cutting or dyeing your hair!
Rasta Look: Braiding Hair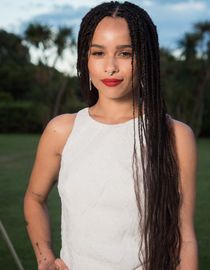 Delicately braided hair originally served to tame a wild, curly afro mane. In the meantime, multiple mini braids have become a widely popular hairstyle that is more trendy than ever!
But not all Rasta styles are created equal: You can experiment with different versions of the elaborate braiding trend. For example with what are known as Casamas braids. With this braiding style, the braids named after their home of Casamas in the Senegal are very thick and braided as tightly as possible. Micro braids are at the opposite end of the spectrum. In what is probably the most common Rasta version, delicate strands from the hairline to the ends are plaited into very thin and braids. Open braids like those worn by Zoë Kravitz are a third option. The afro braids are no longer than ten centimetres while the remaining length of hair simply stays open. Hint: Apply hair oil to the ends for a fitting summer glow!
Rasta Braids: Styling Versions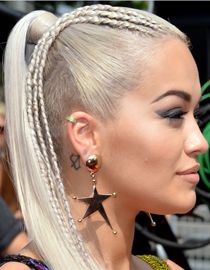 Since the braided look is more changeable than virtually an other hairstyle, the Rasta revival is guaranteed to keep boredom at bay. A ponytail, updo, long mane, chignon or a half-up style are created in next to no time. The best thing about it: The many braided strands create a heaviness that make the styles especially stable. Now you have a perfect hair partner for hot summer days or wild festival weekends! By the way: The Rasta style also looks excellent in blonde hair, see Rita Ora.
Rasta Look: It's in the Mix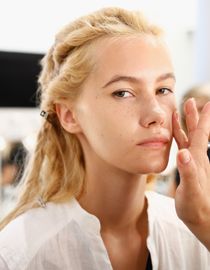 For those who want to optimise the Rasta trend, a combination of braids and dreadlocks is a felicitous alternative. Twirled at the top, braided at the bottom – designer Franziska Michael sent her models out on the catwalk at Berlin Fashion Week 2015 with this powerful hairstyle. The hair liaison of the season!
One final fashion tip: The delicate braids look especially good with feminine outfits: flirty dresses, premium fabrics and mellow colours (nude, white, cream).