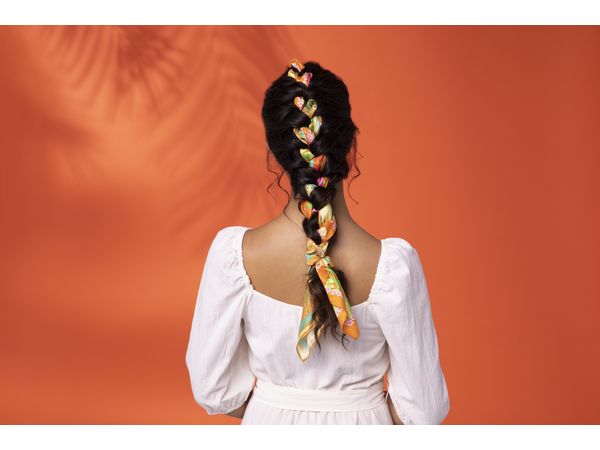 © Schwarzkopf
Ponytail Update: Lose the Hair Tie and Use a Scarf for a Super-Stylish Ponytail
Decorative scarves are currently all over one of our favorite hairstyles: The ponytail. Either tied in a bow or wrapped around the ponytail, this look is super stylish. We demonstrate the trend and reveal just how easy it is to get the look

The ponytail is a real all-round talent: Tied at the nape, it's perfect for everyday wear and when styled sleek and high it's ideal for parties and cool events. At mid-height, it's perfect for just about everything – including make-up removal! Now, the humble pony is getting a cool update: With a classic silk scarf. Below, we show you how this trend looks and how easy it is to achieve.

How to style an on-trend ponytail with a scarf
Creating this trendy ponytail style is easy – you're almost guaranteed to succeed on your first attempt. Here's how it's done:

First, apply volume powder or dry shampoo to the roots to provide more volume and help achieve an even better ponytail.


Create a center part and gather hair into a deep ponytail at the nape, securing it with a hair tie.


Now the scarf comes into play: Fold it lengthways, wrap it around the base of the ponytail and tie it into a bow.


Alternatively, you can wrap the scarf down around the length of the ponytail, fixing it with bobby pins if necessary.

The right haircare for a scarf-adorned ponytail
A ponytail brings the ends of your hair into focus. Ensure they look well-groomed: At least twice a week, work a hair mask through the lengths and ends of your hair. SOS help for dry tips: Apply a few drops of hair oil to the tips. Regular trims (about every two to three months) also help to keep your mane looking healthy and well-groomed.
Tip: For more movement in your ponytail, use a curling iron to create soft waves. Alternatively: Work a volume-boosting mousse or texturizing spray into the lengths of your hair after washing, and dry it with a diffuser attachment.