© Getty Images
Volume Wave
Less is more? Wrong! The much-lauded minimalism of recent times is saying farewell, making room on our heads for the comeback of the hour. Coming back big: The volume wave. We tell you all about what curly big hair can do and how to shape and style it

Think big! Lots and lots of hair is really trendy again. All you need is the right twist: Voluminous, soft, naturally falling curls bring back the big hair look for new pep in everyday hairstyling.
Those with naturally curly or wavy hair should consider themselves lucky. Naturally everyone else can help things along a bit. You can style the occasional volume wave yourself at home with a few supplies. 
Get the right twist:

- After washing, knead styling foam especially for curls into towel dried hair.
- Roll the damp hair around large curlers. Papilottes are very well suited for fine hair – work with wider strands in this case.
- Dry the hair and take out the styling aids. Then shake the curly mane out upside-down and apply extra hold hairspray to secure the look.
- If you are short on time, you can also reach for the curling iron and wrap strands around it down to the hairline.
On the same wavelength – discover the extensive styling possibilities with trendy big hair:

Volume Wave à la flower child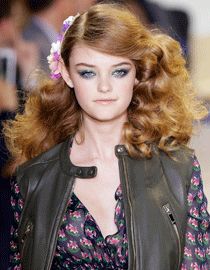 Flower power: The volume wave flourishes with a smooth but full hairline, with copious curls springing up above ear height. Hint: Use a broad paddle brush for brushing out your hair. What does the genuine styling look like? A low side parting lends elegance to the romantic dream mane and extra-large flower hair clips add fragrant accents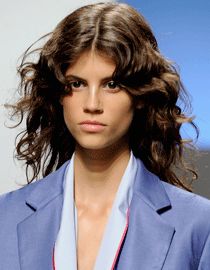 Big hair does not have to be extra long – fullness is what counts with this trend! That is why shoulder length hair is surfing the trendy volume wave as well. A stepped cut is ideal here. The mid-length hair is styled super casual with out-of-bed appeal: Here the soft curls start around the height of the eyebrows and are allowed to appear somewhat loose and undefined. No need to worry about an exact centre parting – casual coolness counts!

Volume Wave: Back to the future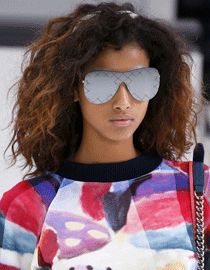 Hair update: Now the new volume styles are also presenting themselves with the trendy two-tone touch. What makes the new waves so special? Hip highlights! Not only does the extra twist freshen up the hair colour, it also lends visual depth to the mane. This brings out the trendy and super modern fullness especially well.