© Getty Images
Undercut – The In-Cut for Men
Masculine, striking and very trendy: The undercut is asserting itself as the in-cut for men. For this style the hair is trimmed short all around, from the bottom to the temples, and left a lot longer on the crown. We show you which versions of the trendy style are especially popular right now
Short or long? This particular hairstyle actually does not require a clear decision. The undercut is both and therefore quasi the relaxed albeit rather sensational all-rounder among hairstyles for men. A hairstyle that is wonderfully versatile to style – sleek, undone or tied up in a braid. No wonder this hair hit is hotly coveted!
The trademark of the undercut: Around the lower part of the head approximately up to the templates, the hair is trimmed short while the top hair stays a bit longer. A sharp edge or flowing transition makes the 2-in-1 look radically casual or super cool. So what versions of the trend style are topping the hair charts right now? We show you!

In-Style Undercut: New Wave
Trend hairstyle XXL: With this new version, the extra-long curly top hair extends past the eyebrows in front. The sides are about one to two centimetres short. And the styling potential is gigantic! Mousse and a blow dryer give the look an extra volume kick. Top tools for everyday use: Hair wax and gel. Countless cool styles can be created with them in next to no time. Wildly tousled, curly with fringe or slicked back with gel for a classy look – this haircut is perfect for anyone who loves variety.

Hint: For a whole new look, form a parting and comb the long top hair to the side instead of the front. The short sections are skilfully covered this way for an update to the undercut.
In-Style Undercut: Soft Transition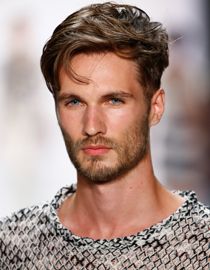 Attractive softie: The undercut not only works with a hard edge and high contrast.
Now the transitions can also be subtle and flowing.
A gentle flow from a buzz cut on the back of the head to top hair left several centimetres long reveals the soft side of the trend cut.
New: Designer stubble and hair become one, joined at the temples with the closely shorn sides. Lust.
In-Style Undercut: Short & Clear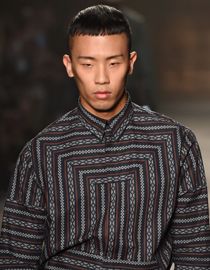 The trend cut is making waves – now also fascinating in the monk style.
This extremely clean look is probably the most easy to care for version of the undercut: hair cut along a circular line on the crown (about one centimetre long) with the sides trimmed as short as possible.
The effect: modern, minimalist and extravagan.