© Getty Images
The Male Stars in 'Suits' Impress with Modern Crew Cuts
The actors in the US American TV series 'Suits' are certainly impeccably dressed and groomed as you would expect for corporate lawyers and paralegals. Of course, in TV series all players look beautiful if not stunning and every lawyer is as smart as a whip. In matters of style and fashion, the 'suits' certainly rank high as well. We took an interest in the hairstyles of the 'Suits' stars Gabriel Macht and Patrick J. Adams
Regular viewers of the 'Suits' series know Gabriel Macht as smart lawyer Harvey Specter and Patrick J. Adams as his paralegal Mike Ross with eidetic memory. The tried and proven story line is familiar and highly successful. There is dedication to the law, competitive zeal, the intoxication with success, romance, big secrets, trust, which is not always mutual, and of course, the ready wit and acrimony of the seasoned lawyer. Add to all this beautiful, perfectly dressed and groomed actors and you have an unbeatable recipe for an intriguing TV series.
Gabriel Macht Wearing a Modern Crew Cut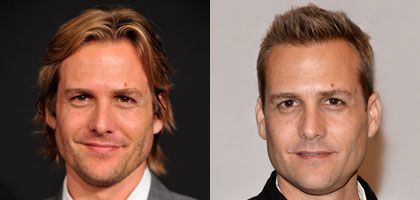 Successful TV series must hold the interest of audiences with intriguing scripts and actors who look believable in their roles. The male protagonists in 'Suits' Gabriel Macht and Patrick J. Adams certainly contribute their fair share to the success of the series. Aside from delivering banter and witty one-liners, the actors also engage their audience in conflicts of values such as loyalty and trust.
In his role as Harvey Specter, Gabriel Macht represents the top to toe perfectly dressed and groomed top law partner. Only the slightly unruly peak of hair over his forehead gives the slightest bit of an indication of the lawyer who likes to break the rules. This tiny deviation from a completely perfect hairstyle intimates just enough rebellion to keep him from looking slick. Privately, the native New Yorker Gabriel Macht likes to wear casual shags, which he may combine with designer stubbles (top left photo).
Patrick J. Adams' Crew Cut Versions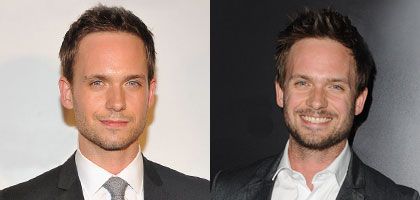 Patrick J. Adams is younger than Gabriel Macht. However, in his role as Mike in 'Suits' he never deviates from his classic style and is always perfectly dressed and groomed. Still, in the series he seems less concerned with his looks than his mentor Harvey Specter and manages to convey a down-home image. The young paralegal in 'Suits' may show no more than a shadow of a beard after working through the night. Away from the 'Suits' set, publicity photos show that Patrick J. Adams can pull off a slightly longer crew cut and designer stubbles just as well (top right photo).
Styling Tips for the Crew Cuts Worn by Gabriel Macht and Patrick J. Adams
Styling wax helps to shape flexible versions of crew cuts. Hair gel creates a wet looking crew cut version with stronger hold.