© Getty Images
Clipper Cut – Reach for the Shearer!
Scissors aren't everything: hair stylists also like using hair clippers for short cuts. They shorten the hair evenly and precisely. Find out what else the shearer can do, and when and for whom the clipper cut is the best choice
Looking for a cool but uncomplicated hairstyle? We recommend the clipper cut. For this short cut, the hair is not trimmed with scissors but using hair clippers. The main feature of this cut is that the hair is cleanly trimmed to one length matching the shape of the head. This does not excluded the possibility of leaving hair at the crown a few millimetres longer and fuller. After all, the shearer can be set to the respectively desired hair length (usually from 0.5 millimetres to 2 or 3 centimetres). Then the longer hair at the crown is blended so there is no visible transition to the short sides. Finally the neckline is cleaned up with the trimmer and the cool clipper cut is finished!
Since this cut can be adapted with such precision, finding the perfect look for every head is quick and simple. Not to mention reproducible. Once cut, the hairstyle can be trimmed precisely time and time again. So you can easily stay true to your look. 
Clipper Cut: The Short Cut To Go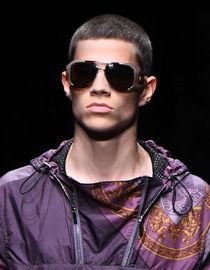 The clipper cut is not only adaptable when it comes to length but also in regards to the hair texture. Since the hair is trimmed evenly, this ingenious short cut works readily with thin or thick and straight or wavy hair. But easy handling is clearly the biggest advantage of this look. The clipper cut is the ideal hairstyle for those who prefer to be practical. No bothersome blow drying, no elaborate styling. Even if you choose the longer version (around 2 centimetres), the hairstyle is ready in a few simple steps: just rub a hazelnut sized amount of styling cream between your hands and work it into the (towel dried) hair at the crown. Then simply sweep or comb the hair to the side or back. Check.