Christmas for Men with Style
A festive look for men is in demand for the upcoming holidays! Choosing a chic hairstyle is essential in addition to a smart outfit. But what does that look like this year? Curled, gelled, slick and easy to style – we give the gift of the best festive hairstyles: 
Do you really want to celebrate Christmas in style this year? Then you need a hairstyle to go with your holiday outfit. To make the preparations a bit easier for you, we have assembled a package of three hairstyles including instructions for you and your loved ones to truly enjoy the holidays – with your hair look alone!
Christmas for Men with Style: Short Cut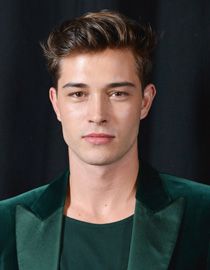 A short cut is a good basis for stylish hairdos – provided the hair at the crown is a bit longer than the rest. A (top) hair length of about three centimetres is enough for styling new looks. Somewhat classier looks are great for Christmas. Our recommendation this year: a style that looks both cool and classy. Simply rub some styling wax between your palms and knead it upwards into the ends of your hair. Finally, brush the tips at the front slightly to the side over the forehead and secure the hairstyle with hairspray.
Christmas for Men with Style: Curls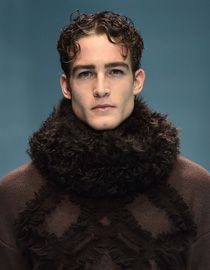 A popular hair highlight: curls. Really unwind with your holiday styling. Creating cool, chic curls is simple: rub a texturing paste (very trendy with a matt finish) between your hands and distribute it in towel dried hair. In doing so, run the hands through your hair in various directions and thoroughly knead in the product. Then blow dry and form a low side parting. Finally define individual curls with extra matt paste and apply a high hold hairspray to the hairstyle. 
Christmas for Men with Style: Comb-over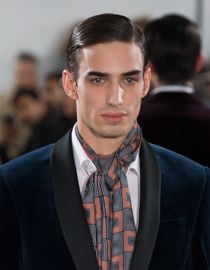 Naturally the trendy look of the year is also good for the holidays: the comb-over. As the name indicates, the longer top hair is combed severely to one side. That guarantees a certain retro gentleman touch that is hip and stylish again today. Currently the hair is worn entirely in the wet look – not only does that maximise hold but also adds extra gloss. How it's done: distribute a walnut sized amount of styling gel in your hair and form a low, accurate side parting. Now comb the hair to the opposite side and finally smooth it all down.