© Getty Images
The Bradley Cooper Style
The 40th birthday of Bradley Cooper is a reason to celebrate the marvellous actor and producer. We also look back at his hairstyles through the years of his remarkable career. The mix includes hairstyles as different as long combed-back styles and razor-short military haircuts. Still, there is something like the 'Cooper Style', and we want to show you how to adopt this style
Bradley Cooper's frequently changing hairstyles are always worth a second look. The actor and his hairstyles intrigue many no matter whether they are long or razor-short. Men are quick to adopt the appealing hairstyles. The heart-shaped face of Bradley Cooper often adds to the appeal of his hairstyles. Quite often, he will wear a beard to give his appearance the desired slant.
At the celebration after the Broadway opening of 'The Elephant Man', Bradley Cooper appeared without beard wearing the 'Cooper hairstyle' with undone medium-length hair (see the photo above). This is the hairstyle, which movie-goers associate with Bradley Cooper in the movie trilogy 'Hangover'. According to People Magazine 2011, Bradley Cooper was that year's 'sexiest man alive'.
How to create the 'Cooper Hairstyle' as shown in the photo above:
Distribute a walnut-sized dollop of styling mousse in the towel-dry hair.
Use a wide-toothed comb to style the hair back. Then blow-dry your hair.
Distribute a pea-sized amount of powder wax between your fingers. Then stroke your hair back using your fingers to create the desired undone style.
Bradley Cooper Hairstyles in a Photo Series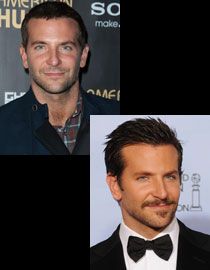 Bradley Cooper embraces the actor's penchant for creating complex images.
The short hair leaves the main focus on the brilliant blue eyes of the American-born actor with Irish ancestry.
In the 2012 movie 'he Words', Bradley Cooper wears boldly styled spiky hair (right) while playing a writer and word thief.
Combined with the moustache, the overall impression is sassy and slightly frivolous.
For a contrasting image, Bradley Cooper sported a razor-cut military hairstyle (on the left) in the 2013 movie 'American Hustle'.
Meanwhile, his moustache had turned into less defined designer stubbles.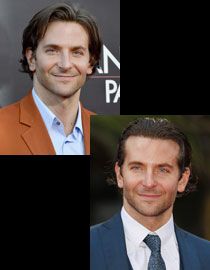 It is the actor's job to slip into the styles of movie characters. While on the promotional tour for the successful comedy 'Hangover 3', Bradley Cooper flipped his now longer hair to the side for a promotional event (on the left) and elegantly slicked it back for the evening (right photo). The designer stubbles emphasise the strong manly image.
Left: Bradley Cooper flips his medium-length hair to the side or uses gel to slick it back