© Getty Images
Trendy Hairdo: Croissant Hairstyle
Hungering for new hair hype? We recommend the croissant. This trendy hairdo is an XL crescent-shaped chignon to sweeten our day. It is also entirely free of calories! What makes this hairdo even more irresistible? The hair croissant is classy and extravagant all rolled into one. We just cannot get enough of it
High fashion, not Parisian patisserie: The croissant is no longer just a morning must for foodies and gourmets – trendsetters are also treating themselves to the enticing crescent. Not on their plate but in the hair. The croissant hairstyle is a chignon shaped like an extra-large version of the French pastry. This hair delicacy as the trend of the season is already appearing on the catwalks of renowned fashion labels. At the Chanel Couture show for instance, designer Karl Lagerfeld garnished all of his clothing creations with seductive croissant hairstyles. Did that whet your appetite?
Croissant Hairstyle: Chignon Deluxe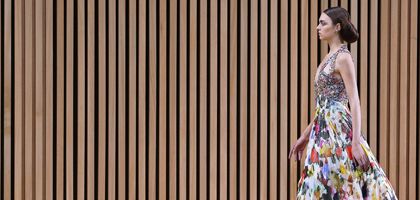 After the messy half bun and casual top knot as leading trends, the croissant is imbuing hairstyles with a new refinement. With this trendy look, straight hair is styled in a tidy, sickle-shaped low chignon that extends low across the back of the neck and ends at the temples. This makes the hair crescent somewhat reminiscent of a laurel wreath – truly a winning style! A strict side or centre parting is the classic complement. For a more youthful and slightly cooler look, an over-length fringe (gringe) is the ideal complement to the croissant hairstyle. 
Croissant Hairstyle: A Special Treat
Lowering your sights? You can do that with a different hairdo. The hair crescent on the other hand has nothing to do with demureness – it makes a grand entrance. What is the croissant hairstyle's recipe for success? Futuristic and a bit retro, dramatic yet elegant – the popular mega-chignon skilfully and stylishly brings opposites together. That is exactly what makes the refined hairdo so flexible in fashion as well: The look is downright made for an evening gown and the delicious chignon is a Hollywood-worthy upgrade for a cocktail dress. With jeans and a T-shirt, the hair croissant is sure to attract admiring glances as a tasteful style contrast!